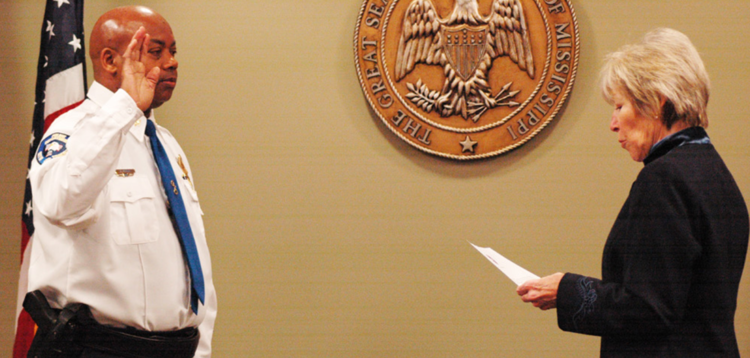 Long-time member of the Starkville Police Department Henry Stewart was sworn in as assistant chief of police on Friday.
Stewart is the third officer to hold this position with the SPD. He was formerly a captain within the department.
Starting as a patrol officer in 1994, Stewart has risen through the ranks of the SPD, holding several positions in his 25 years of service.
Heading into his new role, Stewart said he understood what was required of him and was going to focus on handling the day-to-day functions of the department by creating a culture of leadership along with Police Chief Mark Ballard.
"I have a big responsibility," Stewart said. "I know the task at hand. It's important to me to inspire leadership in our command."
Stewart and Ballard rose through the ranks of the SPD together since the early '90s, something Stewart said would help them going forward.
"We have served together for a long time," Stewart said. "We have built a great working-relationship."
Before joining the SPD, Stewart spent 11 years in the United States Army as a tank crew member and obtained the rank of sergeant. From 1993 to 2002, he also served in the United States Army National Guard before being honorably discharged with 20 years of service behind him.
With Stewart's history of service and their joint time as members of the SPD, Ballard said Stewart was an excellent fit for the role of assistant chief.
While former Police Chief Frank Nichols did not have an assistant chief, Ballard said he chose one because of the growth the SPD has experienced in recent years along with the increased challenges law enforcement faces.
"We're a large organization in a complex profession," Ballard said. "No one has had more time in service than Henry Stewart."
Looking back on their time together, Ballard said he doubted he or Stewart as young men starting at the SPD would recognize themselves today.
For them to both rise through the ranks to the highest positions, Ballard said, was the result of diligence and a belief in the department.
"It's amazing how things turn out," Ballard said. "We stayed the course, made sacrifices, stayed committed."
For more on this story, read Sunday's Starkville Daily News.