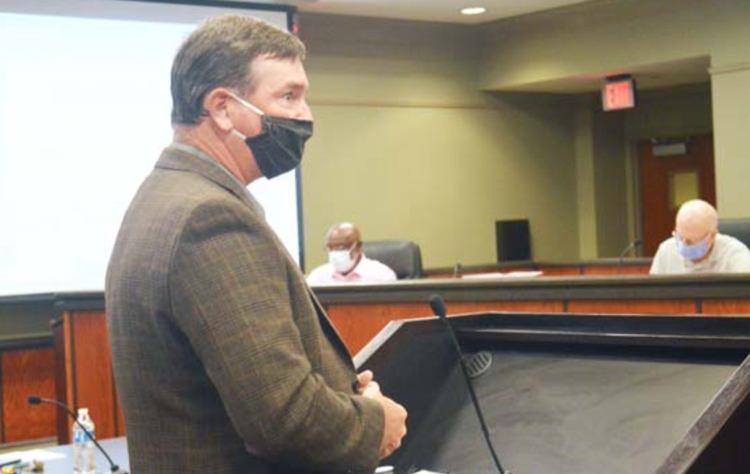 People will once again be required to don face masks inside Starkville businesses following a vote of the Starkville Board of Aldermen Tuesday night.
The board voted 6-1 to require masks in public businesses and other situations where social distancing is not possible or convenient. The order is effective immediately, and does not supersede rules set at the state level.
Ward 1 Alderman Ben Carver voted against the measure.
OCH Regional Medical Center CEO Jim Jackson addressed the board prior to the vote and spoke in support of mandating masks.
He said the hospital supported the resolution in accordance with guidelines from the American Medical Association, the American Nurses Association and the American Hospital Association.
"What they say is that they urge the American public to wear a face mask, maintain social distancing and wash their hands," Jackson said. "This has been the consistent message of not only those organizations, but of the Mississippi Hospital Association, but of the Centers for Disease Control and the Mississippi Sate Department of Health."
He said OCH took the same position. However, he emphasized that he was speaking on behalf of the hospital and was not himself an authority on the novel coronavirus.
"That has been our consistent message," Jackson said. "That's what's been on our social media."
Two local physicians also addressed the board during public comments.
Dr. Cameron Huxford, a pulmonologist who has been involved in testing and treatment of the virus, spoke against the resolution. Huxford, who serves as ICU medical director at OCH, also presented a letter with signatures of 18 local doctors opposed to making masks mandatory for all.
"We acknowledge that this is a novel virus," Huxford said. "It's brand new, and there is no definitive expert in the country on this virus. The 18 of us have personal experience dealing with this and our opinions are recorded."
He emphasized that the group was not completely against wearing masks.
"We have just said the mandatory order that everybody should wear one, the science behind that is unsettled," Huxford said. "It does add additional strain on many of our patients. It increases anxiety and from someone who sees lung patients on a daily basis, it does increase shortness of breath."
He said the data on the effectiveness of masks was inconsistent, and said the interest hand-to-face contact that sometimes comes with wearing a mask could increase the possibility of transmitting disease.
In his address to the board, Jackson emphasized that Huxford had only been an employee of OCH since April 1, after he had come to be regarded as a local expert on the virus.
"I want to make clear that he has not been doing this as the representative of OCH," Jackson said. "But I think he does deserve credit for what he does for this community, taking that leadership role and treating patients."
Family medicine physician Dr. Emily Landrum spoke in favor of requiring masks.
"I know for many of you this has become a political issue, but I assure you it is not," Landrum said. "We are almost six months into a pandemic of a novel, or new virus. There are many things about COVID-19 that we still don't know and it will take time to learn, but there are many things that we have learned. We know that measures of masking, social distancing and hand washing are highly important to preventing unnecessary and burdensome spread of COVID-19."
She said she had also spoken with State Health Officer Dr. Thomas Dobbs regarding the issue of masks.
"Masks not only have the potential to prevent the spread of COVID-19 up to 90% of the time, but they also serve as social cues, reminding others to keep their distance and be mindful of their actions," Landrum said.
She emphasized that the better the community did at wearing masks and following other measures, it would likely return to normal sooner.
Oktibbeha County Emergency Management Agency Director Kristen Campanella also addressed the board prior to the vote.
Carver spoke to his reasons for opposing the resolution.
"There's just not enough data for me to think that this is a necessary mandate," Carver said. "I've seen in a matter of time, these health professionals change their opinions within a week or two. I think that Oktibbeha County and I have to say Ms. Campanella has done an excellent job, seeing what her office has done from an EOC standpoint."
He also thanked OCH for its role in the response.
Ward 5 Alderman Hamp Beatty, who has been one of the most vocal supporters of requiring masks, spoke to his reasons for voting in favor.
"When 20,000 students come back here in August, if we don't have something in place to regulate, this thing could get away from us," Beatty said.
Ward 7 Alderman Henry Vaughn also voiced his support.
"I was thinking about what if I just cough on someone and I give it to them and that person dies," Vaughn said. "How could I live with myself knowing I'd taken another person's life?"
Vaughn also said his sister had survived the novel coronavirus.
"She said she would not ever wish this on no one," Vaughn said.
The resolution is the second time in the pandemic that Starkville has mandated masks, with the first time being in April. The current resolution is similar to a measure passed by the Oktibbeha County Board of Supervisors on Monday.