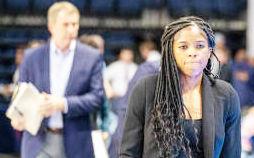 The road to Mississippi State as a recruiting coordinator and assistant coach on Nikki McCray-Penson's staff had to start somewhere for Brittany Young and it began for the Bulldogs' heated rival at South Carolina.
Shortly after she finished her standout career for Francis Marion University as an Academic All-American and the team's Most Valuable Player, Young wanted to continue her education and found a Sports Management program at South Carolina. There were numerous other options as well like law school, but Young couldn't shake the feeling that she wanted to stay involved in sports.
For more on this story, read our news edition from Sunday, May 10, or click here to subscribe to our e-edition.