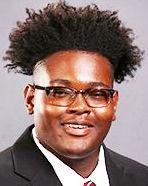 Scott Lashley has come home.
The former West Point High School star and offensive lineman announced on Friday that after three seasons at Alabama, he is now at Mississippi State as a graduate transfer.
"I would like to thank everyone for their support during this process," Lashley said in a statement he released. "Once again, many thanks to the University of Alabama for an incredible experience and for helping me fulfill a lifelong goal of earning my college degree. After careful consideration, prayer and talking with my family, I have decided to enroll at Mississippi State University as a graduate transfer."
MSU confirmed on Friday that Lashley has indeed enrolled at the school. He brings with him a wealth of talent. Lashley was a former consensus four-star offensive lineman out of high school. He was rated as the country's No. 20 offensive tackle prospect in the Class of 2016 and was the nation's 201st overall prospect by the composite rankings of 247Sports.
For more on Lashley's move, see Saturday's Starkville Daily News.