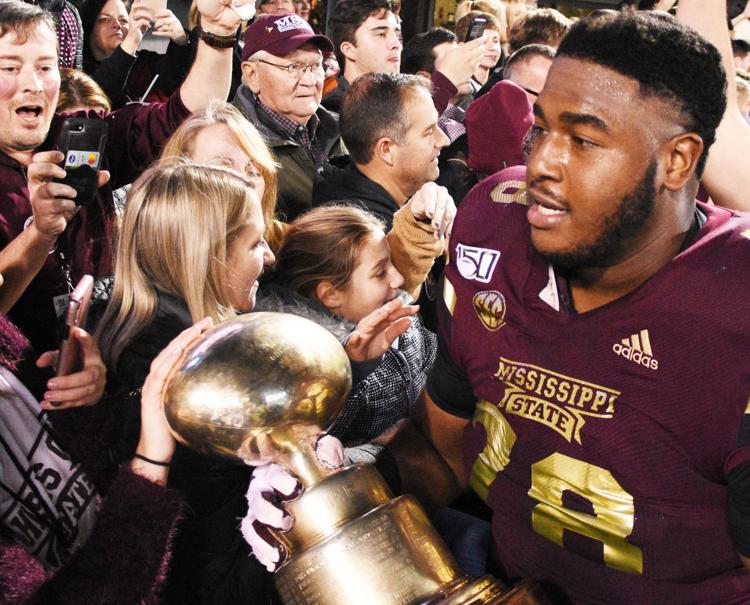 In the span of 4 seconds of game time on Thursday, a Rebel pretended to be a dog and as a result, both the Egg Bowl trophy and presumably Mississippi State's head coach are both staying put in Starkville.
MSU topped Ole Miss 21-20 on Thanksgiving night in one of the wildest Egg Bowls in history. In a game known for outlandish things, this one arguably topped them all.
"There are no words," Mississippi State defensive end Chauncey Rivers said.
The Rebels (4-8, 2-6) found one of the most unique ways in football history to lose to the Bulldogs (6-6, 3-5). Ole Miss quarterback Matt Corral hit receiver Elijah Moore in the end zone for what looked to be a game-tying touchdown with just 4 seconds left on the clock. All the Rebels needed to tie the game was the extra point. There was one problem though. Moore celebrated his touchdown by getting on all fours in the end zone and hiking his leg like a dog, pretending to urinate. That drew an unsportsmanlike conduct foul that pushed the Rebels back 15 yards for the extra-point attempt. The penalty ended up being crushing for Ole Miss and a godsend for Mississippi State.
Rebel kicker Luke Logan missed the ensuing kick and a wild celebration ensued in Starkville as MSU had essentially locked up the win.
The victory gave the Bulldogs their sixth win, clinching a postseason bowl game for Mississippi State for the 10th straight season. That streak seemed very much in jeopardy just a few weeks back when MSU sat at 3-5, needing wins in three of its final four games.
Mississippi State's struggles earlier in the year put head coach Joe Moorhead under extreme pressure entering Thursday night's Egg Bowl, at least externally. Rumors swirled on social media and online in the hours leading up to game time that Moorhead was coaching his last game at Mississippi State.
After a season last year that some viewed as a disappointment, then an up-and-down year this season, many thought Thursday was Moorhead's swan song with MSU.
After the Bulldogs celebrated their win on the field Thursday, Moorhead came to the postgame press conference and delivered a fiery, defiant message to those who thought his days in maroon and white were numbered.
"I think more than anything, (winning the Egg Bowl was) a validation of this team, a validation of our culture and to me, it put an exclamation point on the narrative floating around that I'm not the right man for this job or I'm not the right man for this program or I can't coach in this league," Moorhead said. "That's not the case. I'm (expletive) proud of this team.
"Just make sure everybody understands – this is my school. This is my team. This is my program. I'm not interested in anybody's validation except for the guys in that locker room. Every single one of them, you ask who is the right man for the job, they'll tell you it's me. I promise you that."
What Moorhead didn't have to offer on Thursday night was this – Mississippi State still hasn't come out and solidified that Moorhead will remain the head coach of the Bulldogs. The Starkville Daily News attempted to reach MSU Director of Athletics John Cohen after Moorhead's Thursday press conference to confirm Moorhead's role moving forward with the team, but there was not an immediate response to a text message.
That does at least leave some chance Moorhead's future in Starkville isn't secure. However, aside from that, it sure seemed secure to Moorhead on Thursday night as he spoke with the Golden Egg trophy sitting on a table right in front of him.
"I'm here," Moorhead continued. "This is my team. This is my school. This is my program. You'll have to drag my Yankee (expletive) out of here."
The big win to give Moorhead such confidence in his future came as a result of three main factors. Perhaps the biggest was that MSU bottled up the rushing attack of Ole Miss, led by its quarterback John Rhys Plumlee. The Rebels entered the night as the top running team in the Southeastern Conference.
Plumlee was averaging 123.6 yards per game on the ground. However the speedster was limited to 34 yards on Thursday and averaged just 1.9 yards per carry. Running back Jerrion Ealy did rush for 82 yards for Ole Miss, but by and large, the State defense kept the Rebels at bay.
"It was just not let them circle us," MSU linebacker Erroll Thompson said of the game plan to slow down Ole Miss. "We tried to keep them inside the box and not let them (get to the outside) and make them run up the field, north and south."
While the defense did its thing, true freshman MSU quarterback Garrett Shrader and running backs Kylin Hill and Nick Gibson did the heavy lifting for the State offense. Shrader started in place of Tommy Stevens, who missed the game due to an upper-body injury. Shrader didn't have a huge night statistically – he passed for just 108 yards and rushed for only 19 – but he did have a pair of rushing touchdowns. Meanwhile Hill ran for 132 yards. Gibson had 57 yards and a touchdown.
The State offense built MSU an early 14-0 lead in the game as Gibson had a 27-yard touchdown run in the first quarter, while Shrader had a 1-yard scoring run in the second period. However Ole Miss rallied to tie the game before halftime on touchdown runs by Ealy (5 yards) and Plumlee (2 yards).
Shrader gave MSU the lead back late in the third quarter on his second touchdown run, this one a 5-yarder. That put the Bulldogs up 21-14.
The score held until Corral's connection to Moore in the game's final seconds, then came the penalty and the crucial extra point attempt as Bulldogs everywhere held their breath.
"I was praying," MSU offensive lineman Darryl Williams said. "I had my head down and didn't want to look because when I look, something always happens. I just had my head down, and once he missed, I heard everyone (screaming) so I knew the ball game was over."
The game was indeed over. The Egg was secured for MSU. A postseason bowl game was reached. Oh, and apparently, the Moorhead era lives on with the Bulldogs.
It might be a while before an Egg Bowl can ever top the happenings of this one.
"I'm still trying to put it into words," Thompson said. "It's crazy. I'm just glad we got the win for sure."