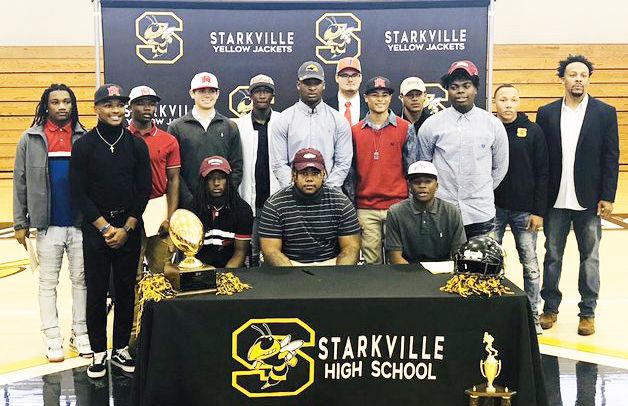 Every signing day works like a revolving door for Starkville High School football.
One player after another comes to the table and announces their college choice accomplishing a dream of playing college football. This year, 14 players took their turn covering over half of the team's starters in 2019 and taking name after name from the Starkville Daily News All-Area team.
"I've won a state championship before and comparing that and these players going to college is right there with it," SHS head coach Chris Jones said. "We want to win one here and we will win one eventually, but to me, the main goal is to get kids to college. Our main job as coaches is to see kids better themselves."
There was a little bit of drama in the midst of the signing day celebration as star wide receiver Rufus Harvey and linebacker Tyrese Hopkins each flipped their commitments from Arkansas State. Harvey pulled in a late offer from Mississippi State that he couldn't refuse and Hopkins also stayed home in state and decided to go to Southern Miss.
For more on Yellow Jacket signing day, see Thursday's Starkville Daily News.