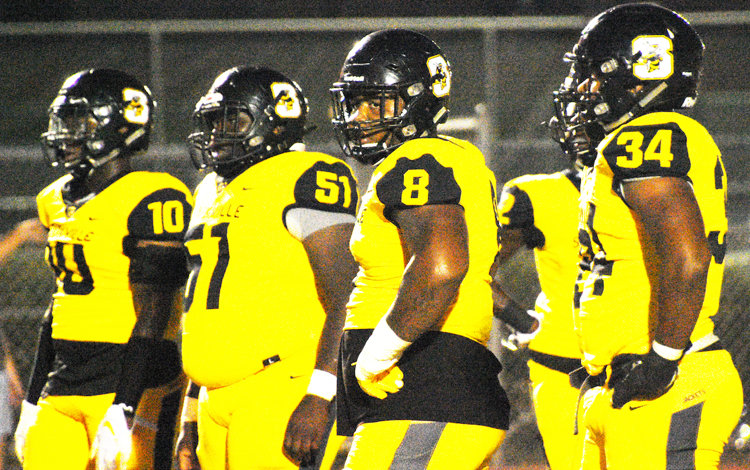 Many programs can't recover right away from losing impactful players.
That's what some thought of Starkville's defensive front seven when they saw that defensive linemen Ryan Johnson and Jalil Clemons were heading out the door and linebacker Zach Edwards as well as the three combined for 54 tackles for loss a season ago and 16 sacks.
For those that discounted the Yellow Jackets' ability to reload, they're not sorry for you.
SHS has come back and produced in a big way up front with senior defensive tackle Jaylan Ware leading the charge. Ware has come back from a great junior year and produced a monster senior season with 85 tackles, 15.5 tackles for loss and 4.5 sacks.
Then there's junior linebacker/defensive end Keyshawn Lawrence and senior linebacker Tyrese Hopkins to add to the mix for the Jackets. They've been the difference in the defense being able to maintain the productivity that they always have.
"The common denominator has been (Ware, Lawrence and Hopkins)," SHS head coach Chris Jones said. "I think everybody else just feeds off of them. Those guys have played at an extremely high level. Hop (Hopkins) has made Ronnie (Randle) better. It's expected out of (Ware and Lawrence). They played a lot of ball last year."
While it's never easy to replace great players like Johnson, Clemons and Edwards, Starkville is one place that tends to have players that respond. Johnson was starring for Northwest Community College as a freshman and seems destined to be in the Football Bowl Subdivision in two seasons, Clemons is playing in his first year at Memphis and Edwards is at Louisville redshirting this season.
Still, the Jackets have kept the same reputation as a nasty defensive front and they've got five players from the front seven who have produced 10.5 tackles for loss or more. That includes the 14 tackles for loss from junior defensive end Ahmir Taylor and the 12 from junior linebacker Randle. Senior Jamori Evans leads the defense with 80 total tackles.
It hasn't been without some adjusting from new defensive coordinator Charles Herron and Jones, however.
"We've moved some guys around," Jones said. "We moved (Lawrence) around and made him our Jack linebacker where Zach played last year. The first few games we had Hop outside and I don't think that we were using those guys right or playing to our strengths. We've done a better job as a staff putting players in the best situations."
Ware has seen constant improvement from his team. They're not a finished product even now, but it's a defense that has grown exponentially since starting the season 1-2.
Following giving up 27 and 41 points in two of the first three games, the Jackets surrendered an average of 9.8 points per game during an 11-game winning streak. There's been three shutouts during that span and in the last two games, teams have scored just five points against SHS with Horn Lake getting a safety for its only points.
"Ever since district play, we've been playing as a unit and really sound," Ware said. "Everything is pulling together so we have a real shot at state this year."
For Ware and the entire SHS defense, it took doubt as a challenge. The unit heard the talk that this year's front seven would be a step back from what they've put on the field.
Teams have found out that they can no longer gameplan for just Ware in the middle, now. The Jackets have several different players that can go win a game on the defensive side of the football and they're swarming at just the right time ahead of the North State championship on Friday.
"Every game we want to come out and play hard so we can prove people wrong," Ware said. "People think that since we lost Jalil, Zach and guys like that we would be sorry. We almost shut out Olive Branch and we did shutout Horn Lake and on Friday we're looking forward to shutting out Oxford."