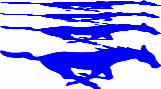 For the third time in five years, Murrah has a new football coach and is trying grasp its footing in a very competitive Class 6A, Region 2.
The Mustangs had three seasons in four years where they finished with six wins from 2011-14, but have since been on a downward spiral. They won four games in 2015, two games in 2016, one in 2017 and three last season. This year, they have a new head coach in Marcus Gibson and his team has lost seven-straight games since starting the year with a win at Wingfield.
Among the losses is Callaway, Provine, Holmes County Central, Greenville, Madison Central, Clinton and Warren Central.
In recent weeks, the Mustangs have been a tough foe on the defensive side of the football. They held Greenville and Warren Central to 14 points or less and Madison Central to 24 points.
Offensive production, however, has been at a premium with three-straight shutouts.
For more on Murrah, the next opponent for the Starkville Yellow Jackets, see Wednesday's Starkville Daily News.