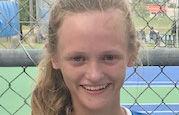 It's a difficult thing to repeat in any sport.
After winning one championship, the pressure to do it again is real.
That's what faced Starkville Academy freshman tennis player Lily Holliday this season.
Holliday won the AAA State championship for girls singles in 2018 and was back to defend her title this year.
She was successful in that quest, did not lose a match all season and defeated Elise Piazza of St. Aloysius 3-6, 6-1, 6-3 in the finals to claim the No. 1 girls singles state title a week ago.
By accomplishing the feat with the Volunteers, Holliday was selected the final OCH Regional Medical Center Athlete of the Week for the 2018-19 school year.
For more on Holliday, see Thursday's Starkville Daily News.