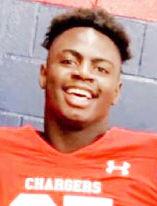 For most of his life, Antonio Kennedy has been known as "BB" to those that know him the most.
His family began calling him that at a young age as the youngest of his family was referred to as "Baby Boy" and shortened to BB as he grew older. He's not a baby any longer and he's certainly outgrowing his boyish ways as well these days.
As just a freshman in high school, Kennedy is the same size or bigger than most of the high school players he goes up against on a weekly basis at Choctaw County. He's 6-0, 200 pounds at running back and is a handful for other teams to defend.
For more on the OCH Regional Medical Center Athlete of the Week Kennedy, see Wednesday's Starkville Daily News.