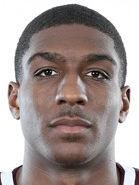 There is at least a chance that Mississippi State freshman men's basketball player Reggie Perry could be one-and-done in Starkville.
Perry announced on his Twitter account on Wednesday that he was putting his name into the hat for the 2019 National Basketball Draft.
He has not hired an agent that will leave the door open for a return to the Bulldogs.
For more on Perry's decision, see the report from Starkville Daily News sports editor Danny P. Smith in Thursday's edition.