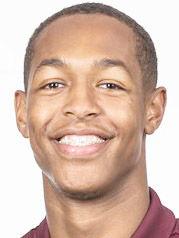 Mississippi State junior cornerback Cam Dantzler has apparently played his final game as a Bulldog.
Dantzler took to Twitter on Friday and announced that he plans to forego his senior season at MSU to enter the 2020 NFL Draft. Mississippi State confirmed Dantzler's intentions and a spokesman also told the Starkville Daily News that Dantzler does not intend to play in MSU's upcoming bowl game.
"First off I would like to thank God for giving me this opportunity to play this game called football," Dantzler posted online. "I am excited to announce that I will be forgoing my senior year and entering the 2020 NFL Draft. After praying over it and discussing with my family, I have decided that now is the best time for me to pursue my dream of playing in the NFL.
"I would like to thank the university, entire coaching staff and all my teammates. I am forever grateful for every member of the Bulldogs community."
Dantzler has had a strong career at Mississippi State. He's started 22 games, including nine starts this season. He has seen action in 35 total contests.
During his career, Dantzler has totaled 108 tackles, six tackles for loss and has 1.5 sacks. He has five interceptions and 25 passes defended.
For more on Dantzler's decision, see Saturday's Starkville Daily News.