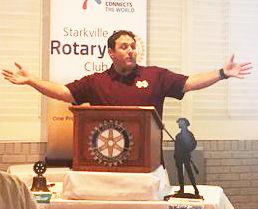 Monday may not have been a good day for baseball.
However, it was a good day to talk baseball.
That's what Mississippi State head baseball coach Chris Lemonis did at the Starkville Rotary Club's weekly meeting at the Starkville Country Club.
As the rain fell outside, Lemonis gave the Rotarians an update on the state of the baseball team. The Bulldogs are scheduled to open the season at home Friday against Wright State.
Lemonis spent some time reflecting on last year's run by MSU to the College World Series, then he also gave a run down on this year's team.
He admitted up front that it's going to be difficult for the Bulldogs to top what they did last season, especially down the stretch.
"For me, (the first year) was unbelievable," Lemonis told the Rotarians. "There were so many things happening last year. We get to open up that brand new stadium. It was a fun team to coach. I'm so glad I got to coach Jake Mangum."
Mangum became the all-time hits leader for not only MSU but also the Southeastern Conference, while Ethan Small became SEC Pitcher of the Year and pitcher JT Ginn was chosen SEC Freshman of the Year.
Once again the Bulldogs are ranked in the top 10 of all the polls. Lemonis said having many experienced players back helps that thinking, but there are several newcomers also.
Lemonis announced his pitching rotation for the weekend with Ginn starting Friday's 4 p.m. opener, while Christian MacLeod getting the nod to begin Saturday's game and Canada native Eric Cerantola starting Sunday. Veterans Riley Self and Spencer Price will anchor the bullpen, but Lemonis said there will also be many new names in the mix for relief work.
For more on this story, read our edition from Tuesday, Feb. 11 or subscribe to our E-Edition.