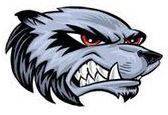 MABEN – Coy Jennings put a mighty swing on the softball on Monday and sent it flying deep into the Cumberland night.
East Webster's junior centerfielder got all of it and she knew it as the softball went sailing well over the centerfield wall.
It's been an up and down softball season this year for Jennings, but her first inning blast accomplished a couple of things. It helped Jennings overcome some recent struggles at the plate and it put East Webster on a path to a lopsided 11-0 division victory over Bruce. Jennings was all smiles post game after a big night for her team including her no-doubt first-inning shot.
"It felt good because that was the first (home run) I've ever hit in fast pitch," Jennings said. "I've hit them in slow pitch, but never in fast pitch. It felt really good."
Jennings also had another RBI later. In the third inning, she laced a ball down the third-base line that the Bruce third baseman couldn't handle. Jennings' two at-bats with hard-hit balls were happenings the Wolverine coaching staff was proud to see.
"That's an upperclassmen and we've got a lot of young girls around her," East Webster assistant coach Corey Stidham said of Jennings. "We need her to kind of lead the way and set the example. She came out (Monday) swinging. Maybe that will be a trend that will continue on."
Jennings may have hit the ball harder and farther than anyone on Monday, but her teammates found plenty of success as well as East Webster won via the 10-run rule. The Wolverines scored four runs in the first inning which included Jennings' homer and an RBI single from Abby Williams.
East Webster added five more in the third inning. Emma McKee laced a two-run double to right-centerfield in the frame. Curtlyn Blake had an RBI ground out. Josie Reed then drove in a run on a fielder's choice ahead of Jennings' run-scoring single.
The Wolverines capped the scoring in the fourth with a couple of more runs. Peyton Flora drove in one and Katelee Box came through with an RBI on a sacrifice fly.
All the offense was a welcome occurrence for East Webster.
"It was really a breakout for us," Jennings said. "We haven't been getting momentum on our side, but we got it (Monday)."
Liz Massey made sure all the runs didn't go to waste. East Webster's pitcher shut down Bruce all game. Bruce's biggest threat came in the fifth as the Trojans loaded the bases with only one out, but Massey struck out two straight hitters to end the threat and the game.
"She did well," Stidham said of Massey. "She struggled throwing strikes at times, but when she did have baserunners, she got the job done."
The win improved East Webster to 8-4 overall this season. In division play, the Wolverines bettered their mark to 4-1.
East Webster is hoping Monday night's win was a sign that both of those records will improve further as the season enters the stretch run. The Wolverines need to get more consistency in all facets as the games begin to become more and more important.
East Webster doesn't feel it's where it needs to be just yet, but with Jennings and the offense having a strong night on Monday and Massey pitching well, it definitely felt like a big step in the right direction.
"We're getting there," Stidham said. "It's still a process."