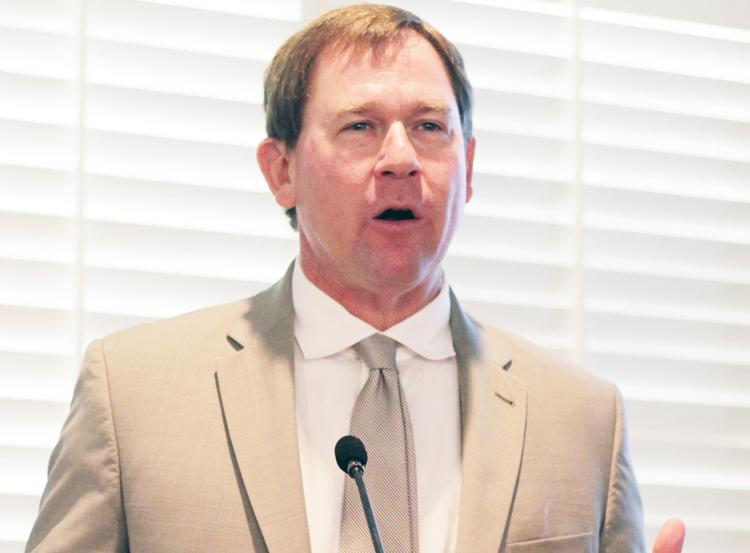 It's a busy time in Mississippi State athletics.
The football team is fresh off an Egg Bowl win over Ole Miss and preparing for the school's 10th-straight year with a postseason bowl game. The men's and women's basketball seasons are in full swing. Baseball is on the horizon. That's not to even mention all of the other sports either happening or about to start up on the Bulldog landscape.
Amongst it all, MSU Athletic Director John Cohen sat down with the Starkville Daily News to discuss a plethora of topics. Here is the final part of a two-part series as Cohen answers questions about the fan experience at MSU football games, the potential sale of alcohol at Mississippi State sporting venues and upcoming facility upgrades.
SDN: Football attendance this past year was down some. Some of that was of course outside of MSU's control with game times and weather. What do you feel like can be done from a fan experience standpoint to help better attendance or help the people that come enjoy it more? Is there anything looking back at the season that you see and think you have to improve for next year?
COHEN: Well, everybody wants night games in September. That helps attendance right there. If you're playing in 100-degree heat indexes, it's tough. It just is. It's a really tough situation. Our league knows that. (SEC Commissioner) Greg Sankey is a constant planner. He is someone that always has his eyes to the horizon of what's going to happen next and I think he has some very good plans that will help us in the future. Maybe not immediately, but I know he has tremendous plans in working with television contracts to help us help our fans because it's not easy. All of our fans have options, and quite frankly, the production level of television broadcasts is at such a high level. It's not as if less people are watching Mississippi State football games. I think that number is at an all-time high. The question is how are they viewing it? Are they viewing it in a 100-degree heat index, or are they viewing it in an air-conditioned home with a bunch of their family members? I'm not against either one of those things, because both of those things further the cause of our football program. Do we want to fill up our stadium? Absolutely. We want to have that electric atmosphere every time like we did against Ole Miss, but this is a bigger issue than just Mississippi State and it's a bigger issue than just the Southeastern Conference. I think everybody is trying to figure this out. It's this really nice balance of television production value versus having rear ends in seats.
SDN: Along the lines of fan experience, at the end of every season, do you also have sit-downs with event management or concessions and the people involved in game day to see what can be done better?
COHEN: Absolutely. It's about what can we do to make it better? We're going to make some major changes that we'll announce later on with some things with football, concessions and things of that nature. We have a very old football stadium. We love it. The atmosphere in it is, I think, one of the best in the country, but we have to do some things. It's an old facility and we're going to keep working on that facility and keep investing in that facility so that our fans will be comfortable coming to the games.
SDN: Inside the state, Ole Miss and Southern Miss are selling alcohol in their venues now. How are those conversations going at MSU and in the near future, do you see alcohol being sold in venues at MSU?
COHEN: I don't think myself or (MSU President) Dr. (Mark) Keenum would take anything off the table. I can tell you this. The number one goal for Mark Keenum, and quite frankly for John Cohen, is safety of our student-athletes and of our coaches and of our fans. Safety is very, very important to us. We want to make sure we are doing the right things for our fan base. You can say all day to somebody like Mark Keenum, 'Hey, Ole Miss is doing this or Southern Miss (is doing this).' That doesn't mean much to Mark Keenum. What means something to him is making sure we provide a family, safe environment. Again, not saying no. Not saying yes. Just saying a lot of careful consideration will go into this.
SDN: Are there any plans at all to have a discussion between now and the start of next season to possibly have alcohol available as soon as next football season?
COHEN: I think it's very doubtful that we would have alcohol next football season. I know it's something that will continue to be discussed, both at the conference level and for us locally.
SDN: Where do things stand on the renovation of Humphrey Coliseum? When would you like to start the project?
COHEN: We will start construction on the lower level and player areas of Humphrey Coliseum. These areas will have a bunker club where the green room (on the lower level) is. We will start construction on that one year from the end of this season. As soon as this season is over, all of the planning and a lot of the electrical work will go ahead and start (along with) the last part of architectural renderings and everything else to make sure we're ready to start digging dirt and moving walls in the first phase of it. We're really trying to thread the needle of making sure this facility is still usable for our student-athletes, but also for our fans, even when we're going through construction. I know (the construction of the new) Dudy Noble was a complicated deal. You had the upper deck part that wasn't available at first and you had construction zones where fans weren't allowed. There's going to be some of that as we transition this building, but it's an exciting plan. We're not 100 percent sure what it's going to cost. Is it from the $45 to $50 million dollar zone? We won't know that until we get everything set up. I think our fans will definitely notice a big difference, especially at the concourse level.
SDN: So this will be a construction project that will take multiple seasons to complete right?
COHEN: No question. I think we can get a lot done in two (years). The entire project might take as many as three years. What we don't want to mess with is what we feel like is one of the best seating bowls in the country. We've been told by many architects who, really all they do are sports arena type of stuff, they said there is not a bad seat in this bowl. Be very careful what you do to the bowl. They do recognize the concourse is old. It's not wide enough. The restroom part of it is not good enough. The concession part isn't what we want it to be. The entryways into the facility aren't what we want them to be. We'll do some fun stuff on the concourse too. We'd absolutely love to have some type of restaurant. We'd absolutely love to have some type of fan engagement area to have souvenirs sold all year long. All those things are really important to us.
SDN: Is everything on schedule with the indoor tennis facility? When will that be up and running?
COHEN: We feel like it will be completed in March. It's a little bit behind schedule for a couple of reasons, but our kids are really excited about it. I think it will be in use for the bulk of our tennis season.
SDN: When the tennis facility is completed, obviously Humphrey Coliseum is next in line after that. Other than that, what's on the horizon facility-wise?
COHEN: The South end zone (at Davis Wade Stadium) is really important to us. The M-Club building is showing some age. We've got to do some things to that. We would absolutely love to enclose that area. We don't need more seating, but we'd love to add a premium content to that part of the stadium. We've had great success with the loge, non-permanent levels we put down there. We've sold that out two years in a row. People love sitting there. It just made us start thinking, that viewing angle right there is so good, what can we do in that area? We have a lot of architects, even as we speak, who are drawing things up and giving us great ideas what we can do with the South end zone, so that's a priority for us also. We also want to build an indoor football facility. The Palmeiro Center is great. We've got baseball that practices in there. Soccer practices in there. Softball at times has practiced in there, but it's just not the size we want it to be for football. We'd love to build a football facility that's big enough for our whole football team to be able to get in there.
SDN: Is there any timeline on any of that?
COHEN: No. I will say we're going to be aggressive. In fact, we're having meetings just next week about the South end zone. The main thing about the South end zone project is you can move on some things there quicker just because it's not being used. You could go through a football season where that area is not really being used and you can do some construction things. (The Humphrey Coliseum) is being used all the time. There are offices in the building, so we have to be very careful how we move forward with (the Humphrey Coliseum) versus something like the South end zone.
(Editor's Note: This is the second part of a question and answer piece between Starkville Daily News beat writer Joel Coleman and Mississippi State Athletic Director John Cohen.)