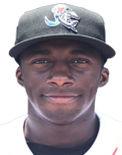 Former Starkville High School baseball player Milton Smith II was locked in at the plate during a recent game for the Batavia MuckDogs in Class A Rookie League.
In six at-bats, Smith had five hits, scored three runs and drove in a run against the State College Spikes on Monday.
It was one of the best offensive games for Smith during his minor league career.
"I've been feeling good at the plate and I've just tried to put together some good at-bats," Smith said. "I'm just trying to put a nice, good swing on it and not trying to do too much. That's really my mindset every game. I'm just trying to get on base any way possible."
For more on Smith, see Thursday's Starkville Daily News.