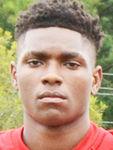 SCOOBA – East Mississippi Community College head football coach Buddy Stephens doesn't hold back when talking about sophomore wide receiver and West Point native Jason Brownlee.
Brownlee is listed at the top of the roster with the No. 1 on his jersey for a reason.
Stephens said Brownlee has the potential to play in the Southeastern Conference one day.
"With Brownlee, it's maturity and understanding the game more," Stephens said on Monday. "He is an SEC guy without a doubt. It's going to depend on if he has a good year and how many SEC offers he's going to have."
For more on Brownlee and the Lions, who were ranked No. 1 in the preseason  by NJCAA, see Wednesday's Starkville Daily News and Daily Times Leader.