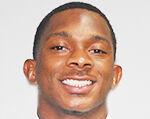 One of Choctaw County's top athletes during his time with the Chargers, Rakiem Ashford spent last year starring for the Bobcats in Ellisville.
His big season earned him a scholarship offer during the novel coronavirus (COVID-19) pandemic from North Carolina State. On Thursday, he announced his intentions of joining the Wolfpack and enrolling immediately in Raleigh.
For more on this story, read our news edition from Saturday, July 25 or click here to subscribe to our e-edition.