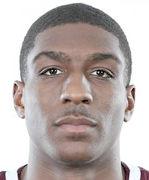 Reggie Perry made a name for himself at the collegiate level last season as he shined on the basketball court wearing the maroon and white of Mississippi State.
He'll likely continue to build upon his success in the season to come, but before all that, Perry has traded in his Bulldog colors for the red, white and blue of the United States.
Perry, MSU's sophomore-to-be forward, is a part of this year's USA Basketball FIBA U19 World Cup team. For the last several days, Perry has been proudly playing the game he loves while donning the colors of his homeland.
For more on Perry's opportunity, see Thursday's Starkville Daily News.