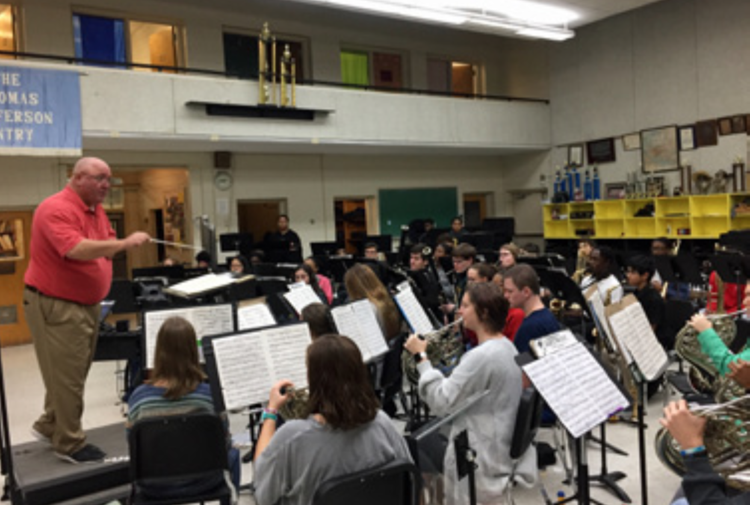 For the first time in its history, the Starkville High School Wind Ensemble will be the featured band at the 92nd annual State Band Clinic in Natchez.
Each year, the Chair of the Mississippi Bandmaster's Association selects a Mississippi high school band to give an opening concert at the convention, which will include band directors from high schools and colleges across the state. SHS Director of Bands Shawn Sullivan said the ensemble would be performing for approximately 700 people at the clinic in Natchez.
"It's very exciting that we were chosen," Sullivan said. "They select one group from the state each year. The president of the Mississippi Bandmaster's Association selects who they want to perform, so I was very excited when (Oak Grove High School Band Director and Mississippi Bandmaster's Association President) Jerry Pickering asked us to perform."
Sullivan said the band started rehearsing music for the performance at its band camp in the summer. He said much of the music chosen for the performance was more difficult than what the band usually played.
"All semester long during marching season, the kids in the wind ensemble would come in the morning for sectionals," Sullivan said. "They've been coming after school once a week every week to practice for Natchez. They've really worked hard for it."
Sullivan said he was humbled by the work the students put in.
"They work hard," Sullivan said. "They buy into what I'm asking them to do. There's so many things that they could choose to be doing besides this, but they choose to make music. Music is the one thing in this world we can all agree on. It's the universal language that everybody can understand."
The program for the concert will include Alfred Reed's "The Hounds of Spring," Julie Giroux's "Our Cast Always," Quincy Hilliard's "Quiet Pride," Percy Grainger's "Shepherd's Hey," Clifton Taylor's "Concertpiece for Marimba and Wind Ensemble" and David Lovrien's "We Come A-Darkly Caroling," which will also feature the SHS Chamber Singers.
Mississippi State University Associate Director of Bands Clifton Taylor will conduct his piece, with MSU associate professor of percussion Jason Baker as marimba soloist. The Giroux work will feature Demario Jefferson as guest conductor. The Hilliard work was commissioned for the band, and will be considered the piece's world premiere. Hilliard is an alumnus of SHS and MSU.
Another guest will be Superintendent Eddie Peasant, who started his education career as a band director before moving into administration. Peasant will conduct the Grainger work, which was the last piece he conducted before moving from director of bands at Murrah High School in Jackson to assistant principal of Clinton High School.
"It's been fun being back on the podium in front of a group," Peasant said. "I told them the other day how long it had been. It's been since April of 2002 since I was on the podium conducting a group, so I'm excited to be in front of this outstanding wind ensemble and then to be conducting the same tune that was my final tune that I conducted as a band director."
Peasant said there were some similarities between leading a wind ensemble and leading a school district.
"I would compare it to leading a school district in that you're trying to get everyone to play on the same page of music, and there are different parts and different moving parts, and they have to all work together for it to all come together to make melodic sounds and rhythms all happen together," Peasant said.
Senior horn player Grace May discussed her experience preparing for the Natchez concert.
"We've put more into this concert than into any other concert that I've been a part of," May said. "We're all very excited because this is the biggest audience that may of us will ever have the chance to perform in front of."
Senior bassoonist Eric Godwin also spoke to the importance of the performance.
"The music really challenges you, and you really have to adapt," Godwin said.
"It just helps you grow as a musician."
In addition to the performance in Natchez, the band will give a free concert featuring the same music at 6 p.m. on Dec. 10 at Lee Hall on the MSU campus.
"It's tough, but I feel like in the last week or so, we've really started playing really well, and I've been surprisingly relaxed the past couple of days," Sullivan said.