We live in a world that idolizes athletes — and for good reason.
Especially in the Deep South, Saturdays are their own religion, complete with tribalism, odd rituals and iconography.
I, for one, am a massive college sports fans and hope the culture surrounding it only grows stronger. Sports give us a sense of place, a camaraderie with those around us in towns that otherwise may have little else to offer in the way of large-scale entertainment.
It's in our blood down here, to the point we erect statues of people who did nothing but play a game well.
But what about when the lights cut out and careers on the field end?
Who are those athletes to us then?
On Tuesday, I came across a Facebook post from former Mississippi State defensive back James Baldwin, who reflected on the tragic death of former MSU receiver De'Runnya Wilson in January and the news of the disappearance of former MSU defensive lineman P.J. Jones, who was reported missing recently after not speaking with his family since Jan. 20.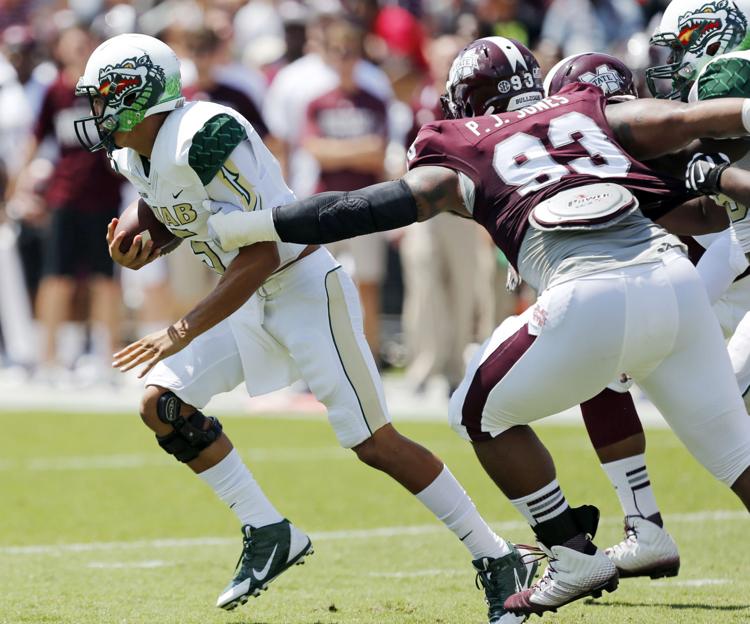 Both young men showed so much promise during their time on the gridiron, but suffered equally from troubles off the field once football was over. While it's not a completely rare occurrence, it underscores how the athletes are treated once their usefulness to their institutions runs out.
In Baldwin's Facebook post, he focused primarily on the need for non-football offerings to provide a foundation for the future of student-athletes, saying, "The universities make all this money. The whole time we do not have time to get internships, go to job fairs, or any other activities that students are able to participate in."
He then goes on to say he wished the millions of dollars made by collegiate athletic departments would be used for mentorship programs and allowing student-athletes time to pursue non-athletic ventures to better themselves academically and professionally.
"I want universities to stop putting so much focus on developing our speed, agility, and 'mental toughness' and more focus on developing our minds for our future," he said.
And I couldn't agree more.
So often, especially in the state of Mississippi, our public institutions are operated like political footballs and the players treated in most cases as nothing more than a marketable commodity — a product.
Athletes and coaches are beloved as long as they are putting butts in the seats and Ws in the left hand column. Once again, it's a business where the people doing all the work — apart from high-priced coaches — are treated with a similar amount of respect as is given to a thoroughbred race horse.
You can be the belle of the ball one minute and one knee injury later, you're on your way to the glue factory.
For those lucky enough to make it to the professional ranks, universities will spend ungodly amounts of money buying congratulatory billboards and emblazoning their names and likenesses on the side of stadiums. And supporting those who go on to successful careers isn't a bad thing and goes back to establishing a sense of place.
But where is the same recognition for the student-athlete who graduates with honors or embarks on a successful professional career after football? After all, the numbers support the notion that there are many more in that demographic than those who make it in the pros.
Where is the same attention for the players who aren't good enough to make the professional cut, but who invested their entire being into their athletic craft, while the institution demands all of their time and reaps most of the benefits?
I can't help but feel young men like De'Runnya and P.J. would have benefited greatly from a personalized mentorship program to set them up for life after football. I have no doubt there were those at MSU who put forth the effort for both of them, but the stories of athletes from tough backgrounds becoming just another statistic have been the same for years at institutions all over the country. These are just the stories of people we know - people who once meant more to us before they walked away from the game for good.
As a small town newspaper editor, I hear and see so many talented high school kids talk about "making it to the league," which is a fine and admirable ambition, but one that should come with a built-in fallback plan.
According to the NCAA, there are nearly eight million students currently participating in high school athletics in America, but only 495,000 of them will compete at NCAA schools. Of that number lucky enough to make it to the college level, only 2% will go on to earn a roster spot in the professional ranks.
And I would be remiss not to ask the question that just because you make it to the pros, do you think they are going to take care of you once you're no longer useful to them?
One of my childhood heroes, former Tuscaloosa County High School, University of Alabama and Baltimore Ravens fullback Le'Ron McClain, was a Pro Bowler in 2008 and 2009 and has been outspoken about the NFL's reluctance to both acknowledge the pervasive problem of traumatic head injuries, while failing to help players after football, using his own struggles with concussions as a platform to speak out.
It's heartbreaking to see such an indestructible titan of your youth suffer in pain after they brought joy to so many and it just goes to show that even all-stars in professional sports can quickly become less than an afterthought to the people who once cheered from the stands.
"Watch how fast they come to aid if I was [some third-string QB] or anything but no I was a [expletive] fullback that did it all. [NFL] I need help and I need the process to speed the [expletive] up," he said on Twitter last summer.
We must take it upon ourselves in our communities and at our universities when it comes to setting these kids on the right path, because I'm reminded every day that they are just that when they first embark on their journey — kids.
If you ask anybody involved in any sport, from the lowly small college ranks all the way up through the pros, the central focus is on pleasing the fans, but most importantly, taking their money.
So as fans, we hold the power to change this and should strive to be vocal with respect to treating student athletes as more than just a product to be used up, thrown away and forgotten once the magic is gone.
And if just a little bit of effort is put toward cultivating a positive culture for athletes once their athletic careers are over, maybe the next De'Runnya Wilson that comes through Mississippi State will not be set on a path to face such a tragic end.
Ryan Phillips is the executive editor of the Starkville Daily News and Daily Times Leader. The views expressed in this opinion column are his and do not necessarily reflect the views and opinions of the aforementioned products or their staffs.