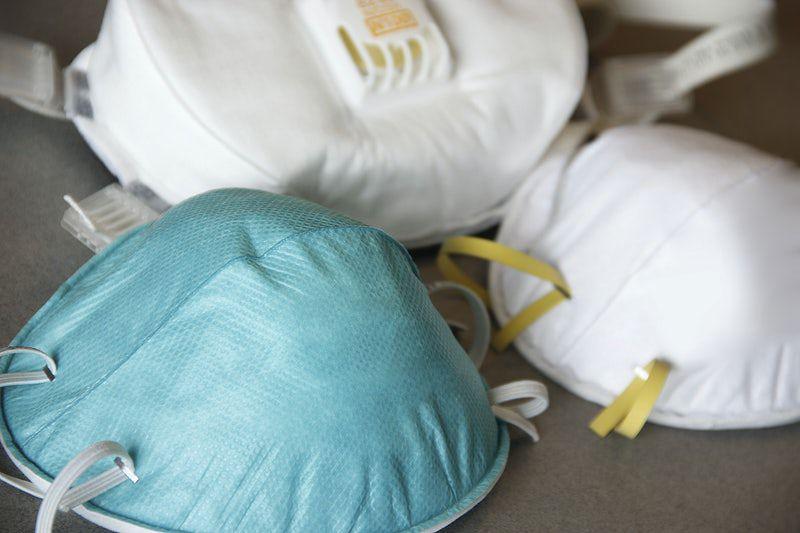 I've started doing something that is probably in poor taste, but it serves a purpose.
If you stand too close to me without a mask at the grocery store or gas station, I will pretend to cough, just to see how serious you're taking things, since my personal space is obviously of no concern to you. The last time I did so, the kind-faced, older, unmasked gentleman standing roughly two feet away reacted by popping up his head from his pile of groceries on the conveyor belt before taking a half-step back. Exercising caution, I like that.
Unfortunately, though, during my trip to Vowell's yesterday, I was in the minority of those wearing a face-covering, save for staff, in one of the most high-traffic stores in our town.
Per the latest stats from the state health department, Oktibbeha County will likely top 500 COVID-19 cases before next week, with the county's most recent numbers showing 486 total as of Wednesday. This is far and away the highest county case total in our coverage area and should be alarming to many, especially since they continue to climb.
These numbers may not mean much to those still personally unaffected by the pandemic, but each single digit represents a father, mother, daughter or son — a life, none of whom is more valuable than the other.
The last couple of weeks have also felt like scenes from the Bill Murray movie "Groundhog Day," where restrictions once placed into action in early April, only to be rolled back in late May, are now being reinstated as we begin to see the error of our ways on paper and in hospitals across the country.
Suffice it to say, we screwed up and are now paying for it.
We, as the arrogant, bullheaded society that we are, began to embrace concepts like "herd immunity," which is practically advocating for eugenics by casting off the weak, old and mentally ill to save the strong and their livelihoods.
We've allowed the politicization of something as simple as face-coverings, which now might as well be Democrat blue if you're wearing one. We've also allowed ourselves to quickly cast aside science in favor of political spin that tells us only what we want to hear. We want comfort, not the truth.
What's worst of all, though, is that we were allowed to police ourselves in the last month or so as regulations were rolled back and we failed spectacularly in doing so.
But here we are, roughly four months in to the pandemic, locally, and we are already backpedaling because of our short-sighted decision to rush back to normalcy, regardless of the risks that were made clear from the onset.
I was proud to see that Mississippi State University, albeit also backpedaling to some extent, was the first institutional body in the county to re-issue face-covering requirements for all buildings on campus, effective immediately.
What's more, the Starkville-MSU Area Rapid Transit system also announced this week it would soon begin requiring patrons and drivers alike on the SMART buses to once again wear masks.
Our local elected leaders, though, are still waiting to make a decision — one that will likely stir the ire of the anti-maskers out there who go about their day as if nothing has changed, standing too close to others at the grocery store and refusing to respect other's rights to safety.
I have said it before, but it bears repeating: You have the right to get sick, but you do not have the right to infect me or my loved ones because of your willful negligence.
Thankfully, the temperature of both of our elected bodies for the city and county seems in favor of reinstating mask requirements for businesses, but the rush to do so, or lack thereof, doesn't seem so much pragmatic as it does politically-cautious. For that, I don't have an answer past my own speculation and the reasons provided by our officials in our newspaper over the last week. But it is my sincerest hope that both will, at the very least, reinstate the face-covering mandate.
At this point, another total shutdown would be an economic death sentence for many who managed to survive the first shutdown, but if the cases continue to rise and hospitals become overwhelmed due to our unwillingness to hold ourselves accountable moving forward, then another shutdown on the horizon can be all but guaranteed if we don't do something immediately.
As cases spike, too, it can also be easy at the moment for us to point fingers back and forth as to the effect had on our numbers by the policy enacted or rolled back, along with speculation, whether right or wrong in hindsight, made by those in the health care community.
That all has to stop.
I'm in no way a doctor, a public health expert or an elected official, but I can say with confidence that for us to ever get ahead of this pandemic, it will require uniformity and compliance with prescribed regulations.
This isn't Big Brother telling you what to do, it's what is needed of you by your country in order to protect our society. It's crucial we consider the long game and the bigger picture.
Not wearing a mask during what could be the greatest pandemic of this century does not a patriot make. What it does do, though, is increase the risk to those around you, which is a common and selfish misconception among those who see masks as a means of self-preservation.
If you are brave enough to beat your chest and go around licking doorknobs to show your toughness, you are free to do so. But when you become a slobbering, bipedal, asymptomatic Petri dish, then you pose a direct risk to others, which is as far from patriotic of an act as I can think of when you knowingly endanger your fellow countrymen. That is, if the goal is for us to emerge from this pandemic in one piece. At the way some are acting, I'm beginning to have my doubts, but I digress.
I say all of this to reiterate the need for uniformity in our community to tackle this crisis. The time is now for our elected leaders to come together and commit to a longterm strategy, instead of this piecemeal, wait-and-see approach that brought us and countless other communities across the state and nation to where we are today.
We are fortunate to have competent leaders and I do have faith they will make the right decision to protect the least among us in our community.
I just pray it's not too late when they decide to do so.
Ryan Phillips is the executive editor of the Starkville Daily News and Daily Times Leader. The views expressed in this opinion column are his and do not necessarily reflect the views and opinions of the newspapers or their staffs.