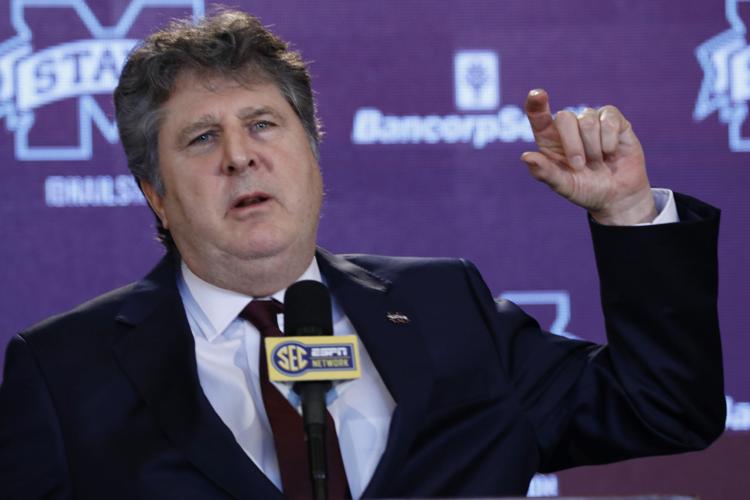 The last few days in Starkville have been nothing short of surreal.
As if the college football stars aligned at just the right moment, Mississippi State managed to slog through public cynicism to snag a high-profile coach who galvanized a previously discouraged fan-base in a matter of moments.
The execution thus far by the university has been impressive, both in its building of anticipation and pageantry on the follow-through. I make no secret that in the privacy of my own home I root for my other SEC alma maters when I'm off the clock. But even this John Cohen power-move got me wide-eyed and out of my chair.
The lone iPhone video I took of coach Mike Leach getting off the plane at the George M. Bryan Airport in Starkville on Thursday has been seen more than 2 million times, underscoring just how excited the fan-base is, along with the legions of college football fanatics across the country. Larry The Cable Guy shared it, after all, so it's important we respect this big moment for our little city.
Mike Leach has landed in Starkville pic.twitter.com/VoAdkG6NoB

— Ryan Phillips (@JournoRyan) January 9, 2020
But during his first press conference Friday at the Seal Complex, that momentum continued as he gave a preview of things to come to a room full of anxious fans and media — me included.
I'll preface this with the notion that this was likely the last Mike Leach press conference I'll attend or at least one of the very few. I'm not a sports reporter and leave that kind of stuff to the experts on our staff.
But coach Leach coming to Starkville was too rare of a cultural opportunity to miss in its opening act. This is history we are witnessing folks and it's bigger than a mere sports story.
I tried to be respectful and waited to let the professional sports reporters ask their professional questions, and near the end I asked coach Leach to rate his first 24 hours in Starkville, including his stop at George Sherman to get a new suit for the press conference.
ALSO WATCH: Mike Leach has first press conference as MSU head coach
I wanted to ask something more clever, like his favorite breakfast cereal or who his NASCAR hood sponsor would be, and wasn't going to ask anything at all initially. But as a representative of the non-athletic Starkville community who will no-doubt benefit from his presence, it felt necessary.
And as if he had been told what I was going to ask, he delivered with Rodney Dangerfield-like precision as he proceeded to step out from behind the podium and proudly show off the new custom suit to the crowd. The Maroon-clad masses erupted in laughter and applause as he told them not to get used to the sight, alluding to his preference for more casual attire.
But when asked about the rest of the community, he took a serious tone and mentioned the Grant Presidential Library on the MSU campus and the myriad academic offerings made possible by his new employer.
"Any time people are pursuing knowledge and thought, a lot of good things come out of it," he said.
Gaining knowledge has been a central tenet of his philosophy and it should come as no surprise that he will likely be a staple in aspects of the university and community outside of athletics. With that in mind, I hope coach Leach will find us welcoming to the point that he can be involved and use his platform to boost some of these fascinating endeavors.
Considering his interest in the military, he could help raise the profile for our local aerospace industry and MSU's own UAV research at the Raspet Flight Research Laboratory. Or he could take a visit to the Starkville Civil War Arsenal to see curator Duffy Neubauer — one of my favorite local people who is every bit as big of a character as coach Leach. I'm sure Duffy would love having the most famous person in town along to film one of his many demonstration videos where he tests Civil War-era artillery.
We could call it "Cannons with the Coach."
I know I could be speaking too soon, but I believe the community has gained a valuable member at a time when so many people seem to be leaving the state. We are gaining someone who is willing to make their home here and help move some part of Mississippi in a positive direction — even if it is for $5 million a year to coach football.
We talk about "brain drain" every day in this state, with our best and brightest leaving Mississippi as soon as they finish school. Even in our own community that problem is apparent. But with the addition of coach Leach, at least the overall IQ in Starkville is going up.
And as Mayor Lynn Spruill has alluded to in the past, concepts like the "Dak Prescott Effect" are real when considering the progress of our city. As the Dallas Cowboys' franchise quarterback has found success in the NFL, his profile has also raised exposure for the city of Starkville.
Reflecting on his work over the years, it could be that coach Leach is the right man to build on that exposure by coming to the state of Mississippi and finding success, as opposed to leaving it to do so.
In considering this, I think back to when he was coaching at Texas Tech, where he launched himself onto the national stage. I was playing high school football in Alabama — deep in the heart of Crimson Tide and triple-option country. I remember thinking how "cool" and innovative his offenses looked putting up big numbers in those modern jerseys, while we sat in a musty locker room watching decade-old VHS tapes of Air Force explaining their snoozer offense.
His style of play moved so fast, especially when all I had to compare it to were the boring paw-paw Wing-T/Notre Dame Box offenses we ran or even the traditional ground-and-pound of the SEC. It was all so foreign and flashy, with teams throwing the ball more than 50 times a game, like a video game come to life.
For a skinny kid trying to play quarterback, who'd only seen football played one way their entire life, it meant something. It meant things could evolve if the right person took action at the right time.
And as sports coverage grew to even more prominence during his time at Texas Tech with the internet and expansion of ESPN, he was the perfect quote-machine coach to lead college football into a new age — a new age that has now made its way to Starkville.
While he changed the game and woke people up to a new way of playing football, most importantly, he made it fun to watch. For a redneck kid like me, it was as surreal then as it was to get to see him get off that plane in Starkville more than a decade later.
I hope this column serves as an invitation on behalf of Starkville and the Golden Triangle to coach Leach and his family to feel at home in our community and join with those of us working to move Mississippi forward.
Ryan Phillips is the executive editor of the Starkville Daily News and Daily Times Leader. The views expressed in this opinion column are his and do not necessarily reflect the views and opinions of either newspaper or their staffs.