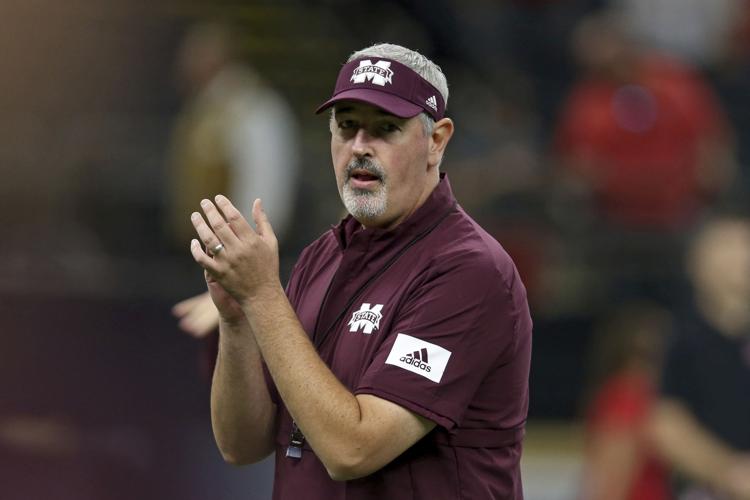 College football, like most everything, is a business.
You don't have to explain that to me and that's not what we're here to talk about.
I'm also not a dedicated sports reporter, so the lens through which I view our local sports news is often just another armchair quarterback perspective from the grandstands.
But on Friday, news of the firing of Mississippi State football coach Joe Moorhead struck me in a way that one wouldn't expect — especially coming from an admitted Ole Miss and 'Bama homer like myself.
I was sad for what we are losing in Starkville, specifically. But it has little to do with football.
Apart from the lackluster product on the field and the controversies off of it, I admired Moorhead as a person from early on in his brief tenure.
He was immediately visible in the community and worked hard trying to forge relationships in a foreign place, which is something I can relate to.
Even this past year, he served as a celebrity guest waiter with me to benefit the local animal shelter. He was as out of his element as I was, but had a much better attitude about it than I ever could have as he buzzed from table to table, talking to the same folks who have very likely cursed his name since.
So in brief moments like Celebrity Wait Night and at other events, I had the privilege of seeing him as a human being, not as some national celebrity on ESPN or as the local pariah he would become. And I have no shame in saying I liked what I saw.
Quick with a handshake and pat on the back, he gave off a welcoming vibe despite his northern mannerisms that seemed to put off a certain segment of diehard fans from the beginning. In hindsight, it took a lot of guts to come down here from where he did to take on one of the most sacred roles in the south. And while the aforementioned traits may translate into strong relationships for a banker or lawyer in the community, it just wasn't meant to be for this particular football coach in this particular college town.
Even from my vantage point, the fanbase turned on him long before he had the chance to establish himself like his predecessor Dan Mullen, who set the standard by which Moorhead was eventually judged. But, funny enough, the expectations from the fan base became something I believe Mullen came to resent as the years wore on and his success at MSU seemed to plateau.
The attitudes toward the public, though, set the two men apart to me in my limited interactions with them.
The comparison I tell folks when asked is that Joe Moorhead knew my name every time I spoke with him after our first meeting. Conversely, I must have introduced myself to Mullen five or six times.
It's a small, inconsequential observation, but one that I think speaks to the character and attentiveness of a high-profile figure in a small town.
Not every fan or person in the community, though, is able to claim this level of intimacy with their football coaches. Opinions on coaches are typically formed solely in the win-loss columns, as they should be.
But as the holiday season winds down, one anecdote stands out to me that fell by the wayside, not because of journalistic laziness, but because Joe Moorhead wanted it to be kept quiet.
Now that he is being run out of town and likely won't have any interest in ever reading a Starkville newspaper again, I don't see any harm in giving you the abridged version and I hope he won't mind me sharing as his tenure at MSU comes to an end.
During the most recent Christmas season, the Starkville Daily News published a series of "Letters to Santa" from local children. The letters are typically funny and whimsical, filled with outlandish expectations that are good for a laugh. Sometimes, though, we will receive the inevitable letters asking Santa for a bed or enough food for their family. It's a heartbreaking reality, especially when you know there are even more out there who don't want Santa burdened with their basic needs at this busy time of year.
This year, two of the letters in particular led to an outpouring of support from the community after two foster children simply asked Santa to give them a good Christmas because their mother was disabled and their father couldn't work when it's cold outside.
I immediately shared the letters on social media and the response was swift and unexpected.
But of everyone who reached out, I was most surprised to hear from coach Moorhead first.
Of all the organizations and institutions in our area, it wasn't a nonprofit, a school or an elected official who reached out to lend a helping hand. It was an embattled "yankee" football coach with plenty enough on his mind to worry about.
After a brief exchange, I gave him all of the pertinent information to contact the family and then went on about my holiday season, really not thinking much more of it.
Shortly thereafter, coach Moorhead messaged me to let me know he delivered gifts to the children in person, including giving each a new pair of Jordan sneakers — much to their delight. I could even tell coach Moorhead was excited. It was probably a welcome distraction from the vitriol building up around him.
I also spoke with the children's guardian after the holidays and their gratitude was immeasurable, considering the simple fact that anyone, much less the most famous person in town, thought enough of them to bring Christmas to their door.
So, why did he do it? Your guess is as good as mine, but there was one thing he never asked for and wouldn't take from me.
Much to my surprise, coach Moorhead didn't want a lick of fanfare or publicity. Even when I asked at the time if I could write a heartfelt feature story on the generous gesture, he declined.
As I write this now and reflect on his time in Starkville, I'm blown away by his willingness to give like that at a time where few in the community would have defended him publicly. He could have just as easily had an assistant donate a check to a local group and do his civic duty by proxy, but he made that kind of effort in a place that didn't even really want him.
Would you have done the same?
While this isolated incident was days before the fight that injured MSU's quarterback and the subsequent poor performance against Louisville in the Music City Bowl, it shined as a quick flash of compassion that won't soon be forgotten by me or those children he helped at Christmas.
I learned from it and I'm sure those kids did, too.
I'm not saying just because Joe Moorhead is a "nice guy" that he would have ever been the right fit at Mississippi State, even if given another year.
But I do know this weekend, fans will celebrate the public dragging of a man who was hired and paid a lot of money to do nothing but coach a game. When in reality, he did so much more for this community than many will ever know.
Ryan Phillips is the executive editor of the Starkville Daily News. The views expressed in this opinion column are his and do not necessarily reflect the views and opinions of the newspaper or its staff.