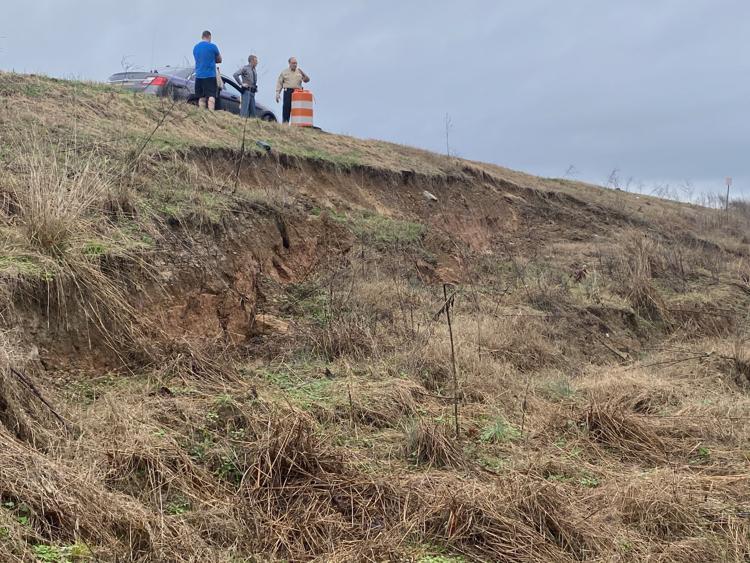 Ankle-deep in mud and staring up from the base of the deteriorating levee at the Oktibbeha County Lake dam on Wednesday morning, I couldn't help but think of how fragile the whole situation is.
After all, it's just a few tons of dirt and some concrete holding back enough muddy water to level a community.
But as the dam's failure remains imminent, a recurring theme continues to present itself when you talk to those close to the situation.
We knew this was coming.
For years, even prior to my time here, County Engineer Clyde Pritchard and District 3 Supervisor Marvell Howard have been documented warning of the potential of a failure at the dam, as fluctuating water levels and aging infrastructure led us to this present state, with roughly 130 homes in the potential impact zone.
The Oktibbeha County Lake dam, despite being a consistent topic of debate over recent years, has been a low priority for county officials outside of District 3 and little effort has been put forth to fully remedy the nagging issues that have now put the entire structure at risk.
In my observations, our county supervisors have tended to focus their money and resources on smaller projects at the request of their vocal constituents and that's OK — up to a point.
But collectively, as is also the case with our state prisons and aging underground infrastructure in Starkville, we kicked the can too long.
Now, we're paying for our negligence in spades as water pulses against the worn levee, threatening homes and property across a wide swath of the Golden Triangle.
Dams aren't sexy issues, either. As with most infrastructure problems, it doesn't become a talking point until something fails and it's easy to not be proactive approaching an issue when it doesn't present an immediate and visible threat.
But if you ask locals who live in the area, it has been a pressing concern for years that has not been fully addressed, even when the repercussions of not doing so were known.
At meeting after meeting in my three years of being the editor of the Starkville Daily News, issues like OCH Regional Medical Center's future, road overlays and improving the county's fire rating have all been deservedly-big talking points, while structural issues and improvements at the dam were left to languish.
I'm not pointing fingers, either. In fact, I'm just as guilty of not taking the issue as serious as it deserved.
And as the Starkville Daily News and other outlets have reported, the county has searched for ways to fund improvements and have followed through on some in the past.
However, the current status of the dam underscores just how short those efforts fell.
Our local problems also provide a localized example of the bigger infrastructure issues facing this county.
A recent investigation by the Associated Press reported estimates that it would cost more than $70 billion to repair and modernize more than 90,000 dams across the U.S., with the majority of them being privately-owned.
That is not the case with the dam at the Oktibbeha County Lake, though.
The public lake and its accompanying infrastructure are the sole responsibility of the Oktibbeha County Board of Supervisors.
And I do applaud Supervisor Howard for being outspoken in years past with respect to structural issues at the dam. He certainly saw the writing on the wall and I'm sure there was no malice on the part of his colleagues with respect to not funding extensive improvements on the dam.
But for the rest of the board to have seemingly ignored the severity of this situation, it is hard to not view this incident as a major failure to work for the best interests of the county as a whole, as opposed to their individual districts.
The looming failure of the dam isn't just causing anxiety for Oktibbeha County residents, either.
As a result of this potentially-catastrophic event, emergency officials in Clay County are preparing for inundation if the dam fails and have issued a local proclamation of emergency.
So now, our problems are literally about to spill over into a neighboring county.
With this many people potentially impacted, when do we accept responsibility for failing?
The warning signs were there, so why did we wait until the clock struck midnight to rush to action?
It's because we were left with no choice, and by no one's fault but our own.
Ryan Phillips is the executive editor of the Starkville Daily News and the Daily Times Leader. The views expressed in this column are his and do not necessarily reflect the views and opinions of the aforementioned products or their staffs.