A member of the Starkville Fire Department was honored Thursday for his continued service.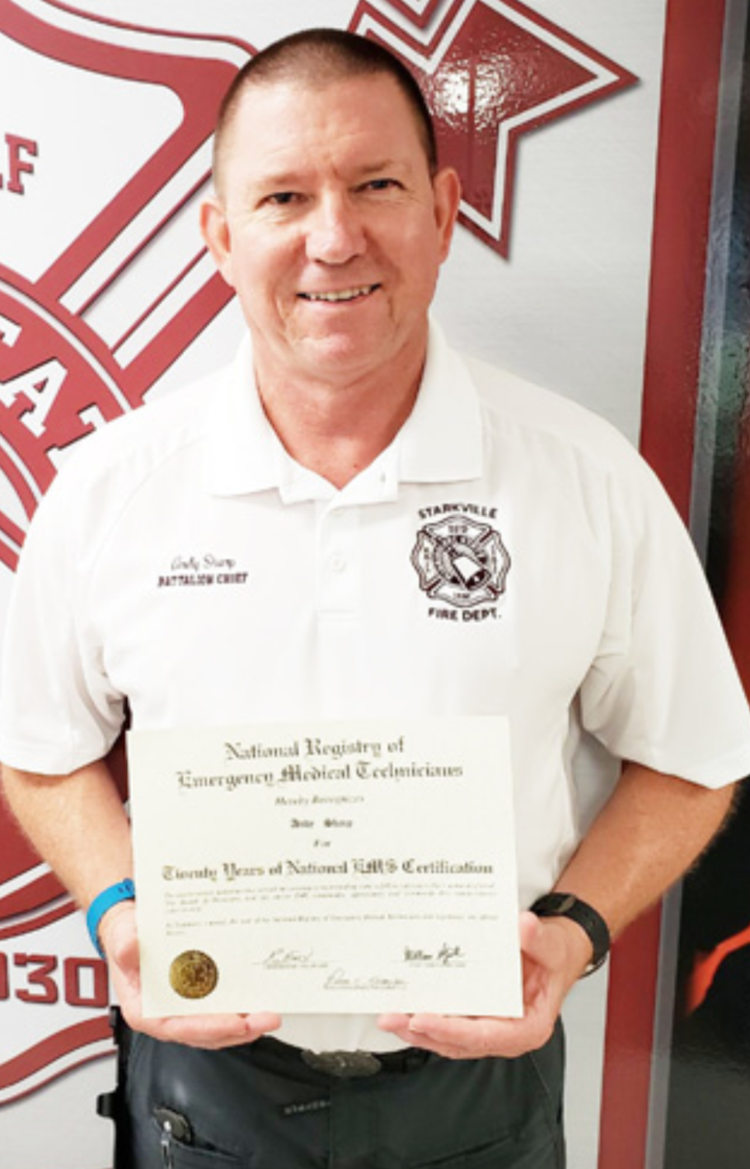 Battalion Chief Andy Sharp was recognized by the National Registry of Emergency Medical Technicians for 20 consecutive years of work as an EMT.
Sharp said the award surprised him as it was not the type of thing one was nominated for.
Originally a volunteer firefighter, Sharp's wife convinced him to join the department outright.
"Volunteers, you know, they're just volunteers," Sharp said. "You go when you can. There's no pay. It's just helping people out."
In January of 1990, Sharp was able to join the SFD, much to the delight of his wife. He admits he never had dreams of being a firefighter and entered the profession later than most.
"There's guys that have retired already that were here when I came," Sharp said. "They started in their twenties. I didn't start until I was 36."
After doing the work for almost 30 years, Sharp said he still loved it.
"Every day is different; you never know what you're going to have," Sharp said. "And hopefully when you go home the next day, you've done something that helps somebody."
Sharp said the desire to help people kept him and others coming to work every day, joking that nobody fights fires for the money.
"Most guys here have a second job," Sharp said. "On their days off, instead of wasting it, they work."
Sharp said being a member of the SFD also taught him how much good someone could do.
"If you can save one room in somebody's house that burns, you've done a lot," Sharp said. "If you can get somebody out of a car that's trapped, get them to the hospital and they're OK, you've done a lot. If you can work on a hurt child and make them better, the next day you can say, 'Hey, I did something good.'"
In his tenure at the SFD, Sharp said people have often looked down on him and other firefighters for seemingly doing nothing some days. For Sharp, days spent doing nothing are the best.
"When I'm doing my job, something bad's going on," Sharp said. "If I'm doing nothing, that means your house is not on fire."