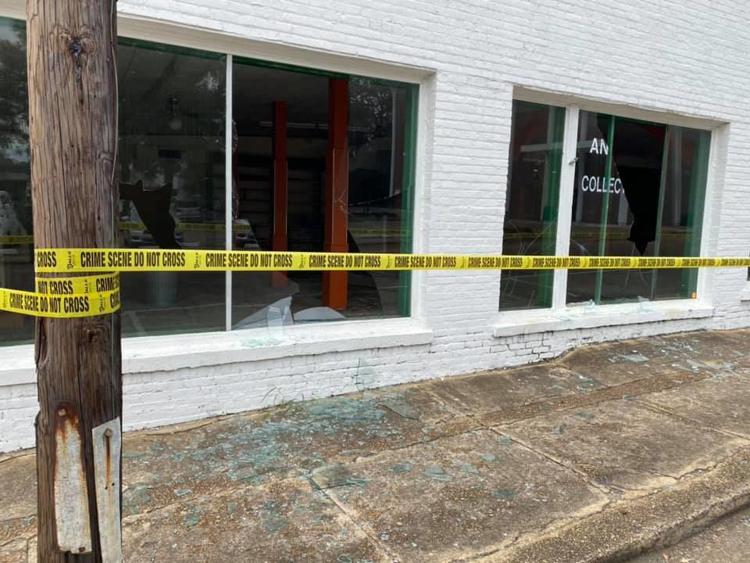 Police are actively investigating an act of vandalism that occurred at a vacant building in downtown Starkville.
Starkville Police Department Public Information Officer Sgt. Brandon Lovelady said the former Boardtown Trading Post was vandalized sometime over the weekend.
On Monday morning, the exterior of the now-vacant store was cordoned off with police tape and all of the windows facing Jackson Street had sustained some kind of damage.
Along the sidewalk were piles of broken glass, but Mayor Lynn Spruill personally cleaned off the area in front of the building and said the owner had been contacted.
After sweeping up the broken glass, Spruill said vandalism frustrates and saddens her.
"It means to me that whoever did this could not be fulfilled by creating something," she said. "They felt the need to destroy something. Self discipline includes respecting the property of others. I am hopeful that we will locate the perpetrators and give them a reason to understand the consequences of their actions on themselves and their community."
Despite no one being injured, the mayor says it leaves a lasting mark on downtown as the building becomes boarded up.
"I hope the owner will quickly make the repair so that it does not leave this scar," she said.
Lovelady said the incident remains under investigation.
Boardtown Trading Post opened on Jackson Street in 1994 and closed for good in May 2017.