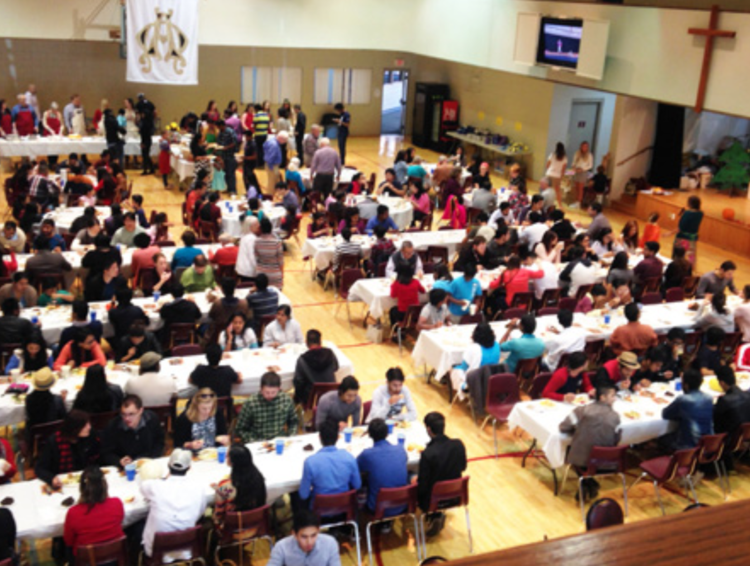 While most people born in the U.S. grow up celebrating Thanksgiving, those who come as immigrants have a different perspective on the uniquely North American holiday.
For 35 years now, Armando and Ruth de la Cruz have been celebrating Thanksgiving in Starkville along with a sizable portion of Mississippi State University's international community.
The event outgrew their house and was later moved to Starkville First United Methodist Church as one of its ministries. Today, the annual International Thanksgiving Dinner draws between 200 and 300 international students and others in the community.
A native of The Philippines and retired MSU biology professor, Armando De La Cruz recalled his first impressions of the holiday as an international student.
"I didn't know about Thanksgiving dinner," de la Cruz said. "Of course, I eventually found out that it is a celebration with the pilgrims coming here and populating this land, and of course I wanted to know the connection between Thanksgiving and turkey, and apparently it was the best animal they could cook at the time."
De la Cruz said Thanksgiving was his favorite American holiday.
"It is one time that all family decides to get together," de la Cruz said. "It's a very important family holiday in the U.S. That's how Mrs. de la Cruz and I felt about these international students that we've hosted many many years now."
De la Cruz said the first time he and his family celebrated Thanksgiving in the U.S., they ate with the family of Harper Johnson, a retired U.S. Army Officer who served in The Philippines during World War II. For de la Cruz's first Thanksgiving as a student in Washington D.C., he was invited to eat at the White House along with several other international students in the Capital area.
" I got invited as one of the international students to go to the White House, and just be there, but the most important part is when we're invited here in Starkville," de la Cruz said.
"That's probably the first time me and my family ate baked turkey the way it's served here with all the condiments that go with it and all the Southern food," de la Cruz added. "Coming to the U.S., that was the first time we had iced sweet tea, the first time we had dressing, first time we had grits."
MSU Holmes Cultural Diversity Center program coordinator Kei Mamiya, a native of Japan recalled his own first Thanksgiving dinner. Mamiya first celebrated the holiday during a year spent studying abroad in Michigan about a decade ago.
"At that time, I didn't know the background of Thanksgiving," Mamiya said. "I guess the historical context. I had a host family there, and they basically invited me to have different dishes. They invited the whole family and different friends. It was basically about getting together with family and friends.
Mamiya said he found his first Thanksgiving turkey to be a little dry, but enjoyed other parts of the meal.
"I guess we don't have that in Japan much," Mamiya said. "My impression was (it was) a little bit like dry chicken or something lie that, but I definitely enjoyed the deviled eggs. I really like that one, and I like dressing."
Mamiya also said he and other international students would gather for a potluck meal during the Holidays, with each person bring a dish from their home country.
"I really enjoyed that one, because I was able to get to know different people, different dishes, and I guess how they celebrate their holidays," Mamiya said.
De la Cruz said he and his wife wanted to welcome other foreigners on Thanksgiving the way they had been welcomed by Johnson and his family.
"We started inviting Filipino students, then Asian students at the beginning, and it became so big that we could not do it anymore in our house, so we asked the First United Methodist Church, and luckily, the First United Methodist Church accepted us as a mission project," de la Cruz said.
He said in the early years of the dinner, it also gave the international students a place to go while the entirety of campus, including residence halls was closed for Thanksgiving.
We are preparing for 200, because we have less international students now, but we have a lot of international families attending now," de la Cruz said.
In addition to the meal itself, de la Cruz said the event also shares a piece of American culture with the students.
"It's really educational," de la Cruz said. "We give them a little history of the U.S., how the U.S. began and how the international Thanksgiving began."
"What we want to convey to our friends and our family is how significant this is for an American family's life," de la Cruz added. "To me, it's the most important holiday in America. That's how I feel about it, and that's why we want to share that feeling with other people. It is our family. That's how we explain it."