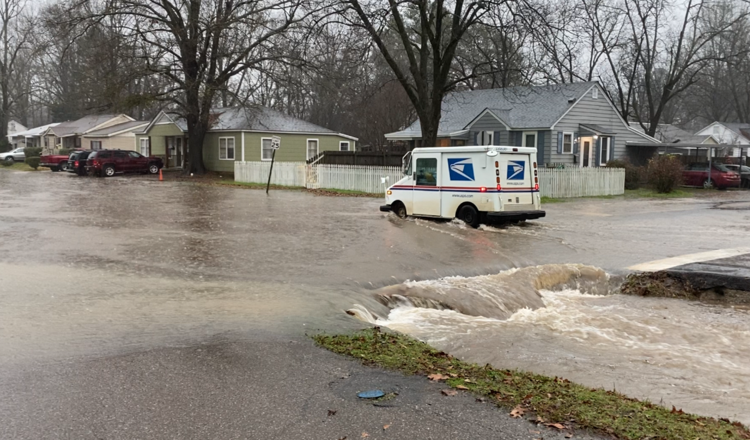 Following a warning for severe thunderstorms and heavy rain on Saturday, Oktibbeha County received several reports of flooding across the area.
Flooded roadways were reported on 2nd Avenue, an area of North County Line Road in Maben, on Highway 182 and Sanders Road and John Starr in Sturgis.
Maben-Bell Schoolhouse Road near the 8000 block was reported to be underwater, as well as vehicles in that area. Blocker Road, Pike Road, Old Highway 25 near Southgate also flooded, alongside Miley Drive, Highway 182 in front of Spiller Furniture, the Scales/Lindberg intersection, McKee Street also flooded, along with the W Reed Road bridge near Highway 25.
Other impacted locations included Pontotoc Street in Rolling Hills and Nash Street, along with Poorhouse Road West.
Continuing in Starkville, flooded roadways included Washington Street near the bridge, the intersection of South Montgomery and Yellowjacket and reports of water coming in a home near Washington and Gillespie Street.
However, Starkville Utilities did not face any power outages during the storm.
There were also reports of washouts and flooding on Longview Road, Longview Adaton and Oliver Jackson.
While barricades were set in place in front of many flooded areas, the Oktibbeha County Road Department ran out of barricades and encouraged drivers to be cautious when driving, especially on unpaved areas.
To report damage from severe weather in Oktibbeha County, call 662-320-7250 or 662-320-7251.
If following @OktibbehaEOC on social media, use #OktibbehaDamage when posting photos along with the nearest address. Also send pictures to reports@oktibbehaeoc.org. Damage reports can be submitted online at https://www.crisistrack.com/public/oktibbehaMS/request.html.