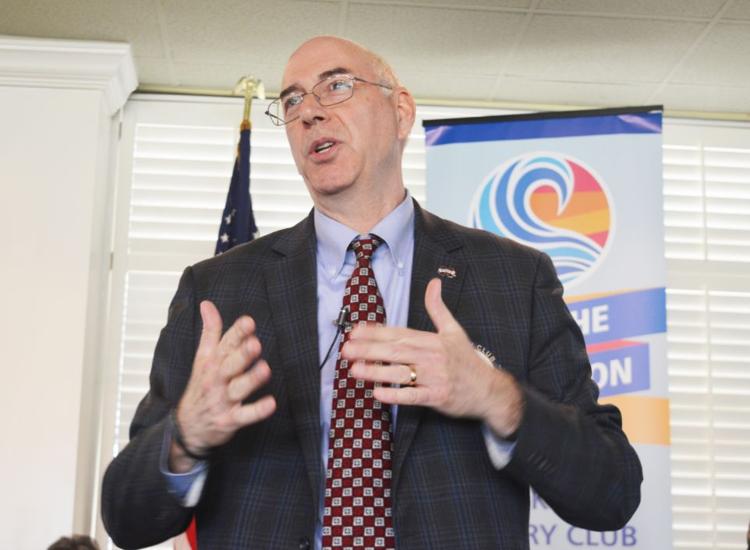 With the second annual Mississippi State New Narrative Festival and Conference, presenters from across the state and beyond came to hear what is actually happening in Mississippi.
Mississippi State University Department of Communication professor and department head John Forde discussed this year's event and plans for future New Narrative Festivals at the Starkville Rotary Club. Approximately 100 people were registered for the festival this year, including several current MSU communication students. Some of the presenters included MSU President Mark Keenum, Mississippi Country music performer and songwriter Steve Azar and Hattiesburg chef and restaurateur Robert St. John, among many others.
He said the main focus of the event was changing outdated and negative perceptions about Mississippi.
"Like many of you, I grew up here, lived somewhere else, chose to come back, and I've chosen to stay," Forde said. "Many of you have lived here your entire lives. That's great, too. What we talk about at this New Narrative Conference is the things that people don't really understand about Mississippi."
He said the festival also existed to give visibility to "hidden jewels" throughout Mississippi.
"The other thing is the changing ways that we show, tell and share stories," Forde said. "That's the other big part of this."
He said the word "conference" had been added to the name of the event this year, to better reflect its entire mission. He also said he didn't mention MSU in the title of the event, to reflect it being about the entire state more than the university.
"We have the logo because it is a university event, but we called it the Mississippi State New Narrative Festival, meaning the state of Mississippi," Forde said.
He discussed several of the presentations at the event, including Keenum's talk on work being done to end world hunger. An agricultural economist by training, Keenum serves as chairman of the Board for International Food and Agricultural Development.
"As most of you know, Dr. Keenum is on many boards, and is very involved internationally with world hunger," Forde said. "A lot of people don't know that. That was a great thing to have start it off."
He also discussed talks given by St. John on some of his charity work through his Extra Table Foundation, and Former Republican Mississippi Congressman Gregg Harper on the Congressional internship program he created for youth with disabilities.
Forde also highlighted George W. Bryan's talk. Bryan discussed his family's history in the meatpacking and other food businesses in the Golden Triangle, as well as his current roles with the Old Waverly Golf Club and Mossy Oak Golf Club in West Point.
"He did a great job explaining this, because again, in my mind, a lot of people don't realize that movie stars, famous athletes, business leaders, anybody else you can think of, go to Mississippi to play golf," Forde said.
Forde also spoke to the student involvement in the event, with some students participating in panels and presenting work.
"They talked about visions for the future, things they were looking at, their passions," Forde said. "We had great displays."
The festival was held at The Mill on Friday and Saturday.