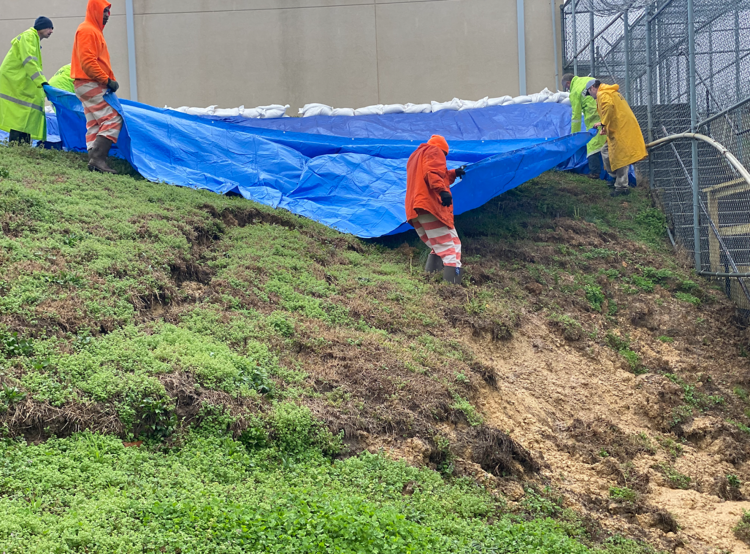 Despite a pressing situation at the Oktibbeha County Lake dam and flooded roadways across the area, Oktibbeha County officials also had to brave the elements on Tuesday as a landslide between two county buildings worsened.
"We had a slide form behind the Oktibbeha County Jail following April's flooding," EMA Director Kristen Campanella said.
She then said as the situation has continued to get worse with each heavy rainfall event, officials discovered another four feet of dirt that slid down overnight into Tuesday.
Upon discovering the progression, the county took action in the hopes of avoiding further damage with the slide positioned between the jail and the Oktibbeha County Circuit Court building.  
Coming once again to the rescue, Eupora-based J&M Bagging delivered a truckload of sandbags on Tuesday as deputies and jail trusties worked to tarp and sandbag the landslide as more rain fell on Starkville.
J&M also came to the county's aid in January, donating 1,000 sandbags to the effort to stop further deterioration of the landslide at the Oktibbeha County Lake dam.
More rain is expected for today's forecast, with the National Weather Service reporting that there will be a 90% chance of rain today, with new rainfall amounts between a half and three-quarters of an inch possible.
To report additional damage or flooding throughout the week, call Oktibbeha County EMA at  (662) 338-1076.