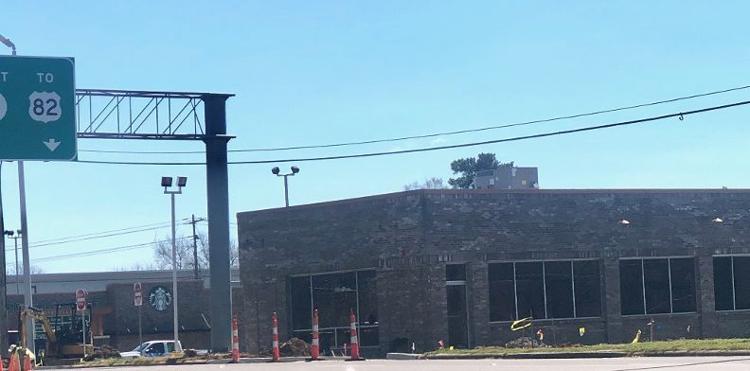 The grand opening of an expanding franchise in Starkville, Chicken Salad Chick, is expected to happen Tuesday, March 26. 
It is currently under construction at 602 Highway 12 near Starbucks and Chicken Salad Chick is a full-service Southern-style deli that specializes in  flavors of chicken salad. 
"Chicken Salad Chick is something different. We don't have anything like this in Starkville or surrounding areas," Chicken Salad Chick owner Eric Hallberg said. 
Hallberg has been in the restaurant industry for over 17 years. When he was 14 years old, he started as a busboy at Harry T's Lighthouse, a seafood restaurant in Destin, Florida. 
He is an alumnus of Mississippi State University and the owner of two Starkville restaurants, The Breakfast Club at 105 Eckford Drive and Chicken Salad Chick.
Based in Auburn, Alabama, Chicken Salad Chick was started by Stacy Brown, a stay-at-home mom who perfected her own recipe of chicken salad. Soon after she and her husband Kevin opened their own restaurant. Their business bloomed to over 95 restaurants across 10 states. Mississippi locations are widespread including D'Iberville, Flowood, Hattiesburg, Olive Branch, Oxford, Tupelo and now Starkville. 
"We've been talking about this for two years and it's finally just come to fruition Tuesday," Hallberg said. 
A ribbon cutting ceremony will be held at 9:30 a.m. Tuesday morning for the restaurant. Chicken Salad Chick is giving away free chicken salad for a year to 10 winners who purchase the Chick Special. Giveaways  will last until Saturday, March 30. 
Grand Opening Day, Tuesday, March 26:
The first 100 guests win free chicken salad for one year. The first guest will receive one free large Quick Chick every week for 52 weeks. Guests 2-100 will receive one free large Quick Chick per month for 12 months. 
The first 50 Guests at 10:30 a.m. and 6 p.m. will receive automatic entry into Chicken Salad Chick's Free Chicken Salad of the Month Club. The club earns them one free scoop per month for 12 months.
The first 50 guests at 10:30 a.m. and first 50 at 6 p.m, will receive a free 32 oz. Chick Tumbler with the purchase of The Chick Trio! To qualify guests must purchase a Chick Trio. One tumbler will be given per guest if qualified. 
Be one of the first 50 guests at 10:30 a.m. and again at 6 p.m. to receive a free upgrade to a Chick Trio with the purchase of a Chick Special.
A free Chick Cooler will be given to the first 50 guests who purchase two large Quick Chicks. One Chick Cooler per guest. 
To qualify for the giveaways, guests must download the Chicken Salad Chick mobile app and be at least 16 years old. Offers are not valid in the drive-thru. For the winners redemption starts April 4. 
Hallberg believes that Chicken Salad Chick has the potential to become a popular spot in Starkville. 
"We've got a great location and it is one of the best run franchises in the country. It's got a wonderful corporate team to work with and it's just one of the hottest franchises going right now," he said. We're excited to bring something different to Starkville," he said.