Many gathered in the Starkville First Baptist Church Outreach Center Saturday afternoon to pay their respects to Charles Everett Keenum, father of Mississippi State University President Mark Keenum.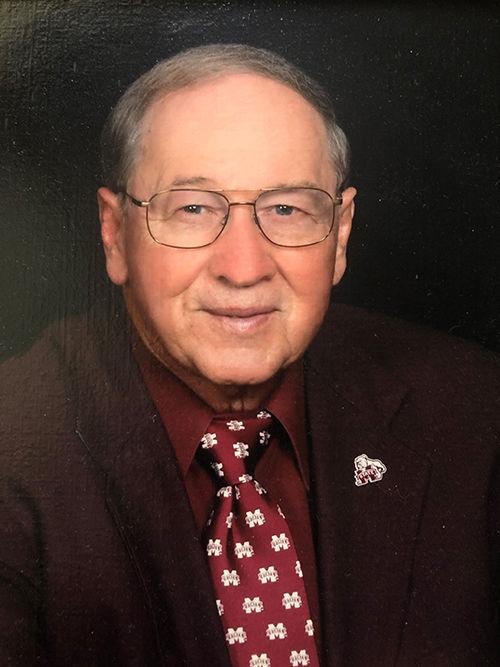 The late Keenum died early Thursday morning at his home in the Jaketown community near Belzoni following a battle with pancreatic cancer. 
He was born on Feb. 20, 1926 in Sumner, and attended West Tallahatchie High School. He earned an agriculture degree from MSU in 1962. 
After graduating, Charles Keenum worked for the U.S. Department of Agriculture Natural Resources Commission Services, serving in assignments across the state.
After retiring, he and his wife moved to a small farm in Jaketown. He is preceded in death by his parents, James Leon Keenum and Maggie Lee Jeffords Keenum and brother James Edward Keenum.
He is survived by his wife of 60 years, Shirley Jo Huffman Keenum, sons, Mark Keenum and David Keenum and one brother, Bobby Gene Keenum, along with 12 grandchildren.
In his eulogy, Mark Keenum remembered his father as "a man who was in constant motion." He added his father committed his retired life to farming.
"He then committed the next 20 years of his life to farming, working on tractors, implements, lawn mowers and any other thing that had a motor or engine," Mark Keenum said. "He enjoyed gardening and serving his church. In fact he went on a foreign mission trip with his church, first time he ever left the country, first time he ever got on an airplane was for his church."
Mark Keenum also remembered his father's passion for sports, playing high school football and coaching various youth sports teams.
"No project was too big or too challenging for him," Mark Keenum said. "He just loved being busy. He thought working was a big part of a person's life, and he expected his sons to share with him in his passion for hard work."
Mark Keenum admitted that he and his father would sometimes clash over him being required to do work. However, he said, as an adult he felt it shaped him.
"He knew how to properly motivate us to do right," Mark Keenum said. "In his eyes, that meant always being honest and truthful, having a good work ethic and being respectful to others."
He said his father was always both his Sunday school teacher and his youth sports teams' coach. He remembered the success of his fifth grade pee wee football team coached by his father.
"We went undefeated and unscored on," Mark Keenum said. "He was a good coach. In fact, the newspaper in Yazoo City, when they wrote a piece about our team, the headline was 'Keenum's Crushers.' He coached me from pee wee football all the way until I played junior high football."
He said it took him until he was an adult to appreciate the amount of time his father invested in him and his brother.
"Looking back, I greatly appreciate what he was doing for me and my brother," Mark Keenum said. "He loved us so much that he was willing to make a huge investment in us. My dad was not big on going around telling you 'I love you' all the time, but he showed us his love every day even on those days that he had to discipline us."
Belzoni First Baptist Church Pastor Rev. George Johnson, who officiated the service, described Charles Keenum as a "bulldog," not only for his passion for MSU, but for his tenacity.
"I can't preach Charles Keenum's funeral today, because he preached it all his life," Johnson said. "If you listened to Dr. Keenum's eulogy, and if you read the (obituary) information given in your program, you'll know that to be true, because he was involved in life. He was involved in people's lives all of his life, touching lives."
Following the service, Charles Keenum was interred at Starkville Memorial Gardens.