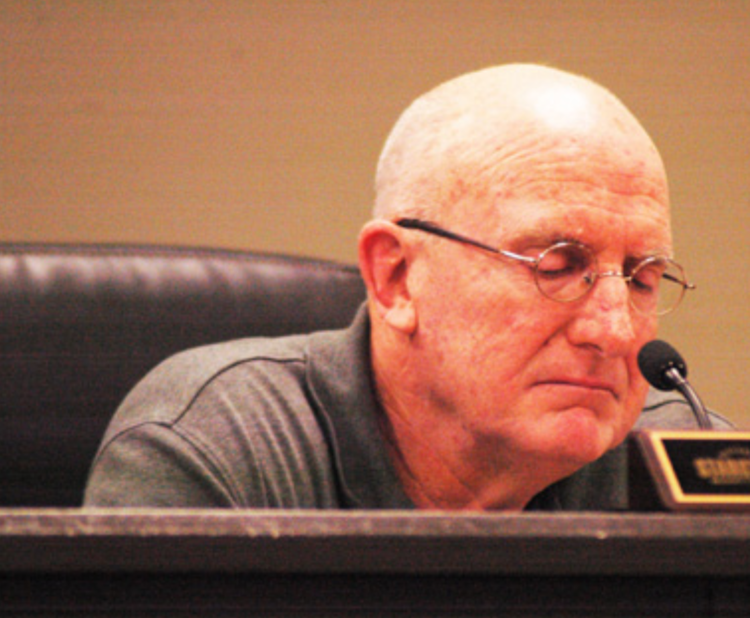 A last-minute addition to the Board of Aldermen's agenda was tabled Tuesday night as officials decided they needed more time to consider their options.
The addition was a consideration to name a prime contractor for the Highway 182 BUILD Grant project. The city was awarded the $12.6 million grant in November after applying for a project that would dramatically improve the Highway 182 corridor.
Overall, the project will require an additional $3 million from the city, bringing the estimated cost between $15 million and $16 million.
Mayor Lynn Spruill apologized for the late addition of the item, noting the city's closure on Monday made the necessary preparations impossible.
Aldermen were presented with four possible candidates for the project contract scored by committee made up City Engineer Edward Kemp, Cody Burnett of the city engineering department, Starkville Utilities General Manager Terry Kemp and Mayor Lynn Spruill.
"A large composure of this project is to put the utility lines underground, so that was the thought in having some utility representation along with engineering," Kemp said.
The group considered submitted proposals based on the company's experience with large scale projects, the quality of their designs, their proximity to Starkville and other factors.
Kemp said the projects all scored very well, with local company Neel-Schaffer and Kimley-Horn, which has offices in Memphis and Birmingham, leading the group.
Between the two highest scoring proposals, Kemp said they offered different things.
"They really kind of had completely different approaches," Kemp said.
One major factor Kemp pointed out was Kimley-Horn's experience with large scale projects, having worked on three projects of similar size and scope to the Highway 182 improvement project, though Kemp also said the Jackson office of Neel-Schaffer had experience with BUILD grant projects as well.
Ward 4 Alderman Jason Walker asked Kemp what made Kimley-Horn score higher than Neel-Schaffer and determined the former offered something more focused on the corridor's new identity.
"I think both firms are definitely capable of doing the engineering," Walker said. "It sounds like one [Neel-Schaffer] proposal was clearly more looking at engineering and one [Kimley-Horn] was looking about more what does that corridor become. It sounds like one was more of a design proposal and one was more of an engineering proposal."
After hearing Kemp's assurance that he believed either company was good enough to complete the project, Ward 3 Alderman David Little said he felt like Neel-Schaffer's local presence should be rewarded and would be useful for the day-to-day construction on Highway 182.
"I think Neel Schaffer is just as capable as Kimley Horn," Little said. "They've got a brick and mortar investment in town. I feel like they will be here daily watching the project."
Walker, however, expressed concern in passing over the committee's top recommendation.
"This group, as a committee that scored all the different proposals, had a different choice," Walker said. "It is certainly the Board's right to go whichever direction we want, but I personally feel a lot more comfortable going in another direction if I personally invested and read those proposals."
Spruill apologized again for not having the proposals ready for Aldermen to inspect prior to the meeting, adding the frantic timeline of the project was why she added the item on Tuesday's agenda to begin with.
Kemp echoed Spruill, saying the schedule to complete the project on time with different deadlines spread throughout the coming months would be "aggressive."
"The project has to be fully designed, accepted by MDOT, all necessary right of ways permits and everything acquired by September 2021, which seems like a long way away but really isn't," Kemp said.
Ward 2 Alderwoman Sandra Sistrunk agreed with Walker. She said despite the project not being in her ward, she was concerned for the overarching design of the corridor.
"If it were in my Ward, I would be very concerned about more than just an engineering project where the curbs went up in the right place," Sistrunk said.
Vice Mayor Roy A. Perkins followed Sistrunk and Walker, calling the question of who to pick as the prime contractor a "$16 million question."
"The overriding concern and factor is getting it right because it is urgent and necessitous that we make the best decision that promotes the best interests and welfare for the city of Starkville," Perkins said.
After some discussion, Spruill told Aldermen she would like to see the contractor chosen tonight but understood if they were uncomfortable in making a decision.
Aldermen ultimately chose to delay the decision by a unanimous vote. Spruill said it will be either be held during a special work session or the next regular meeting on March 3.
No date was set for a potential special work session on Tuesday.
Read this full story online with the Starkville Daily News E-Edition. Convenient home delivery also available – get your newspaper dropped daily at your door