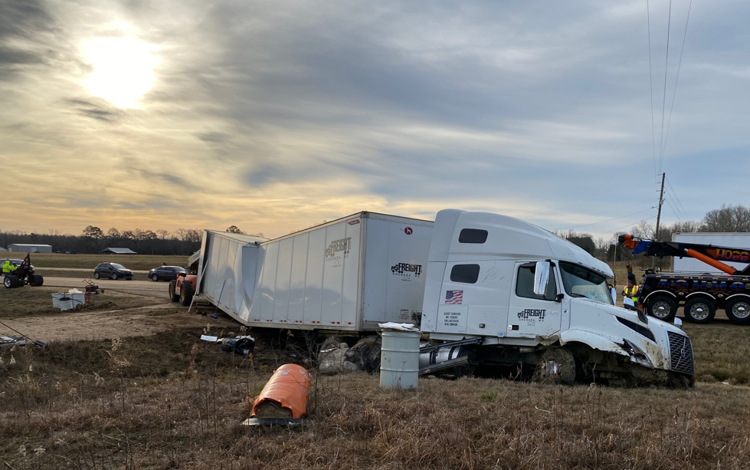 An early morning 18-wheeler wreck about two miles west of Starkville saw no injuries on Thursday, but did see multiple agencies respond and traffic impacted for one lane of Highway 82 in Oktibbeha County.
Oktibbeha County EMA Director Kristen Campanella said dispatchers received a report of the accident about 2:30 a.m. Thursday morning.
Campanella confirmed the driver wasn't injured, but the truck was carrying a full load of dry goods.
At the scene, the driver told the Starkville Daily News that he fell asleep behind the wheel.
The truck is owned by Grenada-based MS Freight Co.
As of 8 a.m. Thursday morning, Campanella said one of the westbound lanes on Highway 82 was blocked, but traffic was still able to move through the area.
"We're waiting on the trucking company to offload and then we will remove the [truck] from the scene," she said. "At least one tank was punctured, resulting in around 25-30 gallons of diesel fuel spilled out on the ground and ditch."
She then said the diesel fuel was contained and that a heavy duty wrecker was on the scene.
Also, a hazmat crew was set to respond and assist with cleanup.
Responding agencies include: Oktibbeha County EMA, Oktibbeha County Sheriff's Office, Mississippi Highway Patrol, the Adaton Volunteer Fire Department, the Mississippi Department of Environmental Quality, and the Mississippi Department of Transportation.
This is a developing story. For more, read Friday's Starkville Daily News.