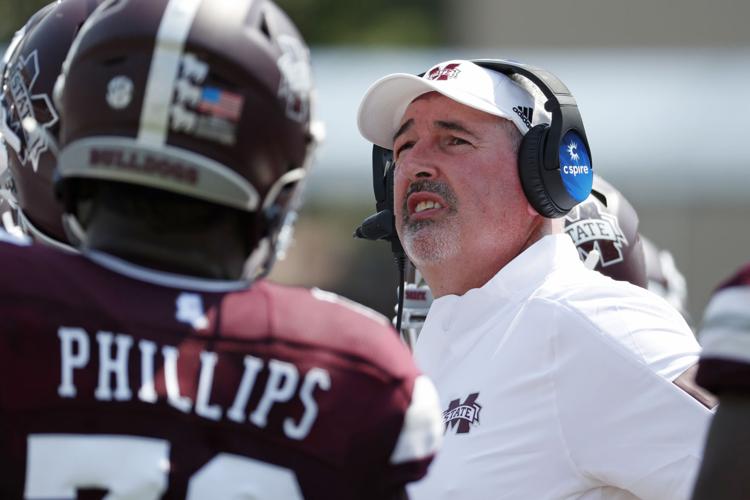 It was after the Egg Bowl in late November when Joe Moorhead stated he'd be the head coach at Mississippi State until his "Yankee (expletive)" was dragged out of Starkville. On Friday, just over a month later, Moorhead was indeed pulled out the door.
The Starkville Daily News has confirmed Moorhead has been fired by Mississippi State after two seasons. Moorhead's tenure in Starkville ends with a 14-12 overall record on the field. It was a stint marred by disappointing results and off-field issues.
Moorhead went 8-5 in his first season at MSU in 2018. However that was viewed as underachieving by some, given State had arguably the best defense in school history, anchored by three players who were chosen in the first round of the 2019 NFL Draft.
This year, there has been turmoil from the start. Even before State finished 6-7 this season, 10 Bulldogs were suspended for eight games this year following an academic fraud scandal. Also, throughout the year, there were multiple losses in games in which MSU was never really competitive.
Despite all that, the Bulldogs finished 6-6 in the regular season and capped that off with a win over Ole Miss.
Following the in-state rivalry game, MSU athletic director John Cohen told the Starkville Daily News in an exclusive interview that the plan was to extend Moorhead's contract back to the maximum four years allowed by Mississippi law. It's not clear if that new contract was never finalized and then, plans quickly changed over the last couple weeks.
State had a major off-field issue as linebacker Willie Gay, Jr., and quarterback Garrett Shrader were involved in an altercation during bowl preparations. The incident left Shrader with orbital bone damage and he was unable to play in State's bowl game. Then, MSU lost 38-28 to Louisville in the Music City Bowl in a game in which MSU was dominated. It wasn't long before State decided enough was enough.
Sources told the SDN on Thursday that MSU was evaluating Moorhead's status. By Friday morning, Moorhead's time as a Bulldog was over.
It's not completely clear yet where MSU goes from here. Suspected coaching targets that have been mentioned in speculation include Louisiana head coach Billy Napier, Austin Peay head coach Mark Hudspeth, Florida defensive coordinator Todd Grantham and former Auburn head coach Gene Chizik, among others.
This is a developing story. For more, read Saturday's Starkville Daily News.