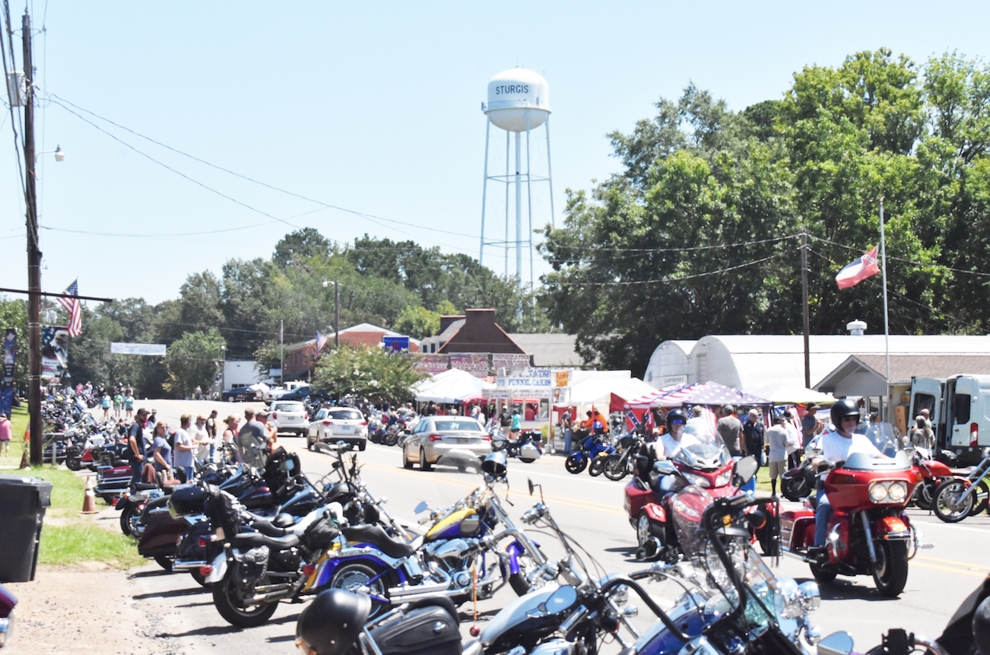 The rumble of motorcycles could be heard all over Oktibbeha County this week as the 20th installment of the Sturgis Rally kicked off Friday, with the biggest day for bike enthusiasts on Saturday attracting hundreds to the area.
Following Friday's dinner ride, which snaked its way through Starkville, the town of Sturgis played host to the annual rally, which features motorcycle shows, competitions, food and other vendors and activities for kids and adults, alike.
Sturgis Mayor Billy Blankenship, who has been the tip of the spear for Rally organizers over the years, said the turnout was substantial, which will likely mean the Rally will turn a profit in 2019 — something it failed to do last year when rain impacted the festivities.
"Preregistration is actually double what it was last year," he said. "The whole park, the entire park was basically, filled up by Thursday. We have campers in the outfield [of the park] that haven't been occupied since we brought [the Rally] back, so it's been fantastic."
On Saturday, Blankenship said the Rally board had sold roughly 1,000 armbands at $15 each, which is a drop in price from $20 last year. While tourism dollars from visitors are more than welcome, armband sales have been the determining factor for the Rally's profitability in the past.
"The hope was if we decrease the price of armbands, maybe more people will buy them and we will make back what we lost on the price," Blakenship said.
The mayor went on to address rumors that the 20th anniversary of the Rally would signal its end.
"The main feedback and question is 'will you have it again next year?'" he said. "The rumor is this is the 20th year so they had the anniversary and this is going to be it and that's not the case."
Blankenship then alluded to last year's Rally, which lost money due to the inclement weather.
"Last year was a loss because we were rained out and it was difficult to bring it back, but we got with the Rally board and built the sound stage to keep us from having to rent a sound stage and it made it affordable for them to do it and it's my understanding at this point and time I think we're going to be profitable."
As bikers rolled through the small town, Blankenship said the primary challenge was simply to keep attendees happy.
"Everything is pretty much detailed and just a constant effort of making sure everybody is happy and making sure everything is going right," he said.