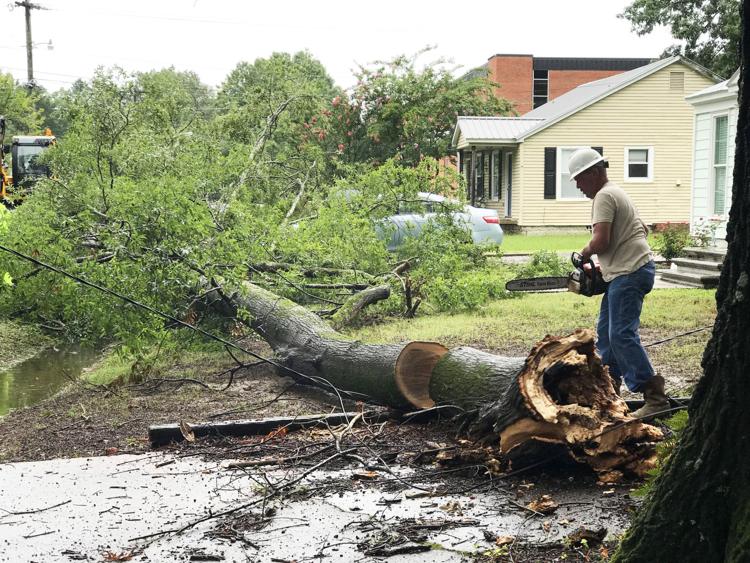 July 15, 9:40 a.m.
The weekend passed with no real issues for the Golden Triangle as Tropical Storm Barry tracked father west than initially forecast.
But Monday and Tuesday are expected to see even more rain and wind push through the state.
8 AM CDT Radar Update: Moderate to heavy showers will continue to lift NNE across the region through 10 AM. Flash flooding will remain possible across the area. Gusty winds could also down some trees as soils are very saturated from weekend rains. pic.twitter.com/1kuFJ00Xma

— NWS Jackson MS (@NWSJacksonMS) July 15, 2019
The only damage confirmed in Starkville came when a large tree limb feel into a yard and onto a vehicle at about 3 p.m. Sunday in the 400 block of McKee Street.
No injuries resulted from the incident and Starkville Utilities crews responded to clear the tree and repair a damaged line.
Oktibbeha County EMA Director Kristen Campanella said there was no damage to report in the county and only minimal damage across the state.
"Barry shifting west left us with some flooding concerns and those concerns will continue as we move into Monday and Tuesday," she said.
Campanella said a primary concern moving forward is soft, soggy ground that could bring down trees on power lines and cause outages.
She also stressed the need to pay attention to weather forecasts and local emergency reports in the coming days and to keep devices charged in the event of an outage.
According to the NOAA Storm Prediction Center several storm damage reports were filed throughout the state on Sunday, with some in the area.
Flash flooding is likely across parts of our area today. The highest rainfall amounts are expected across central & northeast LA, western MS, & far southeast AR where an additional 3 to 5 inches of rain are expected. An additional 1 to 3 inches of rain are possible elsewhere. pic.twitter.com/lgOdO9Yo5E

— NWS Jackson MS (@NWSJacksonMS) July 15, 2019
A tree was reported down in Winston County at the intersection of Highway 14 E and Crystal Ridge Road Sunday, but other than that no other damage reports were filed with the National Weather Service for the Golden Triangle over the weekend.
Click here to sign up for the county's emergency notification system CodeRED, which provides up-to-the-minute information on warnings and other emergency services.
The Starkville Daily News will provide more storm updates and information on hazardous areas as it develops