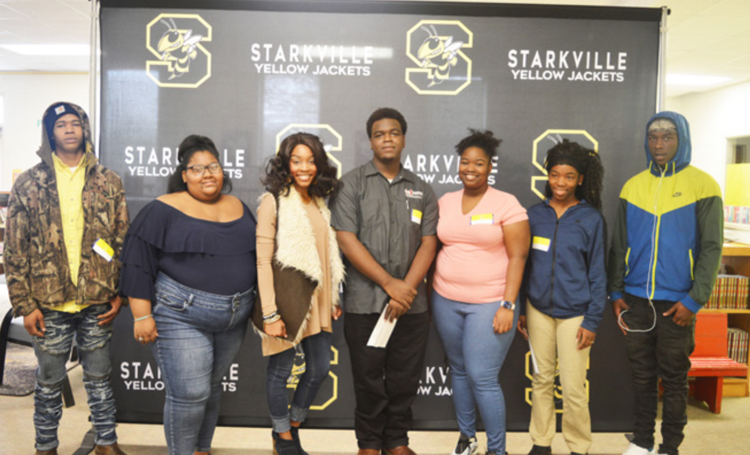 On Friday, alumni of the Starkville High School Jobs for Mississippi Graduates (JMG) program returned to SHS to reap one of the many benefits of their participation.
Nineteen of the program's 2019 alumni returned to campus to receive scholarship money donated by the program's sponsors.
Each JMG grad currently enrolled in college or university received $200, while students in the workforce received $50.
The JMG program is a nonprofit organization focusing on helping at-risk students be exposed to opportunities for the future. The program teaches college readiness and employability skills, and assists students with opportunities for the future. It is the state arm of the Jobs for America's Graduates program.
"My students were informed a year ago that if they enrolled in college or military, or even work, that SHS JMG would have scholarship funds available for them," said SHS JMG instructor Debbie Thomas. "The scholarships came through our local businesses and partnerships that we have founded over the last four or five years."
She said more of her 2019 alumni ended up in college than any of her prior classes at SHS.
"It is gratifying to know that they're doing great things," Thomas said. "I've had more students this year enrolled in four-year colleges, two-year colleges, postsecondary schools than we've had over the past four to five years, and that's great, and also to know that most of the students this term who enrolled in college were working."
"It's looking like the program is growing, and we're doing better, and I'm hoping that we'll continue to get the support from the community," Thomas added.
JMG alumna A'Shauna Howell is now a freshman biology pre-med major at Alabama A&M University in Huntsville. She said experiences she was able to have through JMG were the reason she was able to get into college.
"College is fun," Howell said. "College is not the easiest, but it's worth it."
She said the JMG scholarship she received would help her purchase textbooks at the start of spring semester.
After finishing her degree at Alabama A&M, Howell plans to attend medical school.
"It's going to help me out a lot with college and more," said JMG alumna Romya Sexton, who is currently studying business at East Mississippi Community College.
"She was teaching us about life, before we even got to it, teaching us about real life," Sexton said of Thomas.
Sexton hopes to someday own her own business.
Thomas said there were currently 15 students in her class, with more to come next semester.