Registered Nurse Kathleen Hilbun stretched out an arm with a rubber-gloved hand and directed a small SUV to a stop as it pulled into the clinic parking lot, signaling with her voice and hands for the driver to stay inside the vehicle.
"Please, stay in the car," she said in an authoritative voice as the rain drizzled the area Monday morning. Hilbun's tone underscored how serious the situation has become at drive-through testing sites across the country amid the continued spread of the novel coronavirus (COVID-19), especially after news arrived that Oktibbeha County had confirmed three new cases to begin the week.
The county's overall total has now risen to five, but OCH Regional Medical Center Intensive Care Unit Medical Director Dr. Cameron Huxford told the Starkville Daily News Monday morning that the hospital has yet to admit a patient with a confirmed case of the virus.
Dressed head to toe in protective medical gear, Hilbun and respiratory therapist Michael Gibson operated the drive-through testing site at Huxford's clinic on Strange Road. The tests are conducted, then sent to another lab with results typically coming back in a couple of days, although new tests are being developed that claim to offer a quicker turnaround.
"We've done a lot of testing through our drive-through but there are other providers around town doing their own testing," Huxford said. "I checked with the hospital first thing this morning and even with those three new cases bringing the total to five, none of them were admitted to the hospital and we don't have any currently that we suspect have the virus in the hospital."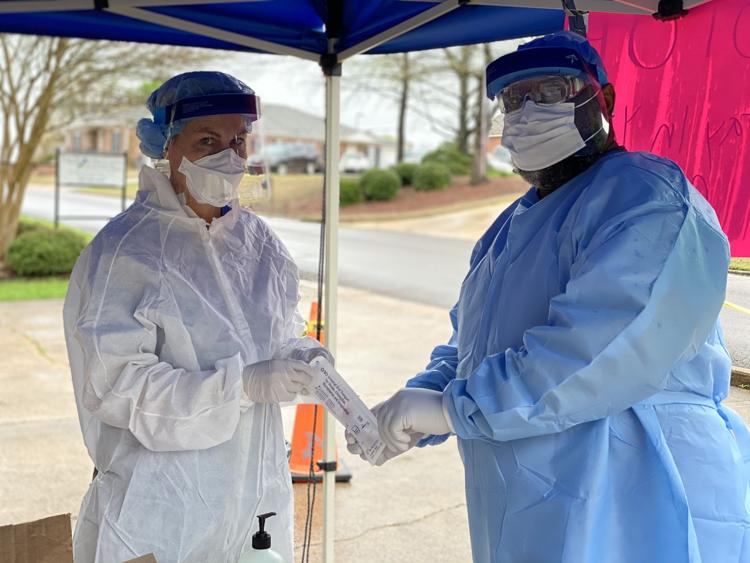 The county's first two cases were confirmed on Sunday, one being tested at an urgent care clinic in Oktibbeha County, while the other was likely an Oktibbeha County resident who was tested at a hospital outside of the county.
Neighboring Lowndes County also saw its number rise to six cases, as Clay County stayed at one confirmed case in the latest report from the state health department on Monday.
Across the state, three counties have confirmed more than 20 cases each, including: DeSoto (23), Harrison (21) and Hinds (24).
As of the publication of this story, the MSDH says 67% of confirmed cases in Mississippi through March 20 did not require hospitalization.
The MSDH also says as of March 22, 1,392 individuals had been tested across the state.
To view the latest updates from the Mississippi Department of Public Health.
Huxford could not provide specifics on the three new Oktibbeha County cases since they weren't tested or admitted to OCH and said they too were likely county residents who became confirmed cases outside of the area or at one of the other testing providers in the area.
"There's a lot of people coming from all over our service area and all you really need is a doctor's order and the doctor's office provides all the other stuff," Huxford said, commenting on visitors crossing county lines to get tested at OCH. "If you go to their regular provider and they deem it sufficient to test it, they'll order it."
Perhaps the biggest concern for Huxford, his staff and those at OCH on the front lines of the crisis is personal safety, which is reinforced through practices during the drive-through process.
"They just need to know to stay in the car, we are coming to the car with masks, gloves, gowns, just stay in the car and once you are tested, you have to go home to self-quarantine for 14 days until we call you with the results," Huxford said.
RUMORS AND CAPABILITIES
OCH Regional Medical has been preparing for the last several weeks for the possibility of a pandemic, but even though hospital officials are confident of capabilities, Huxford said rumors persist amid the panic and give those in the community the wrong impression.
"Things that I've read are that we're running low or not going to have enough ventilators or equipment, and at this point that's an unnecessary worry," Huxford cautioned. "At this point, we don't even have a sick patient in the hospital, so being concerned about not having enough gear is not pertinent to our situation. That can change, we want to let people know that, but the hospital is currently well prepared for this."
According to Wes Andrews, director of Respiratory and Pulmonary Services and Disaster Preparedness Incident commander, OCH Regional Medical Center has nine critical care ventilators, and per its pandemic protocol the hospital has 25 Vortran Automatic Resuscitators (VAR) to be used as ventilators in the event of a surge of medical patients.
"The hospital also has seven anesthesia machines that can be pressed into service as needed," Andrews said.
Additionally, OCH Director of Public Relations Mary Kathryn Kight confirmed to the Starkville Daily News the hospital currently has 480 N95 respirator masks on hand.
"The data and information changes by the moment and often you can be fearful by what you're reading, so I just urge people to not be afraid," Huxford reiterated with respect to concerns about the virus. "The chances of you getting it are limited, but for the vast majority of people, it's a mild illness, so nothing to be afraid of at this point, just be careful."
As the situation continues to develop, Huxford said for those at home to continue practicing social distancing and watch for the classic symptoms, namely fever.
"If you haven't had documented fever and for us, that's 100.4 degrees, then you probably don't have the coronavirus," he said. "Seasonal allergies will cause sore throat and things like that, but fever, cough and shortness of breath are the classic coronavirus symptoms."
Huxford then reminded those in the community of changes at the hospital, which is enacting its action plans as the number of cases is sure to continue climbing in the coming days and weeks as more tests are conducted and results communicated to counties.
"There's two access points to the hospital right now, one is the outpatient admissions and one is the ER," he said. "All other doors are closed except for staff. You will be screened to get your fever checked, asked about symptoms and there is a visitor limit, too. If you don't need to come to the hospital, there's no reason to come right now."