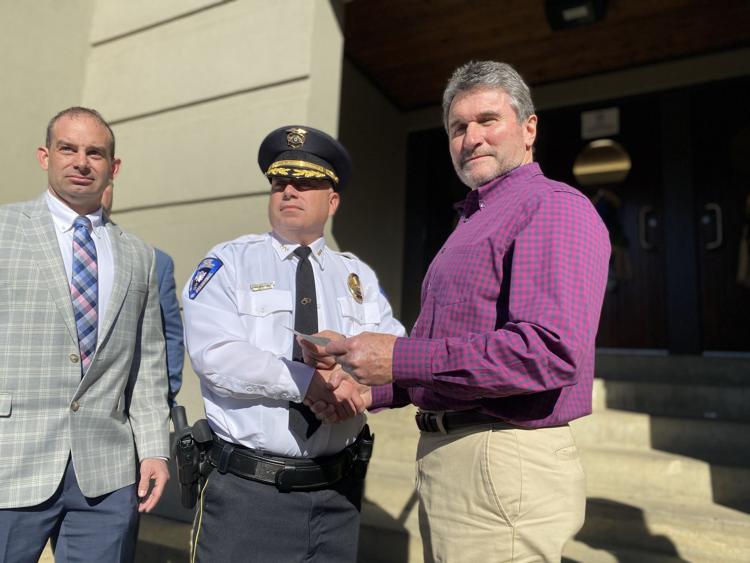 But for the Starkville Police Department, a recent donation was given in the hopes that others will benefit from advanced technology used by local law enforcement.
On Saturday morning, Starkville and Oktibbeha County officials gathered at the SPD headquarters for a presentation of a $5,135 check from the family of Cory Baughn — an Alabama man who went missing in November and whose body and vehicle were found in a wooded area near Highway 82 and Highway 45 in Lowndes County after a two-week search. Foul play was not suspected.
While Cory's father Richard Baughn praised local efforts on social media and traditional media, he was also quick to show his thanks to two SPD investigators: Sgt. John Michael Lay and Detective Scott Lomax.
He then said the family decided that in lieu of flowers that would be dead after a few days, they would ask for donations to be made to the SPD to show their appreciation and hopefully aid in helping to save a life or help a family in the future.
"Cory was from Alabama, they knew that but they acted like it was their son or their cousin," Baughn said. "I was never disappointed. I would like for this check to be at their discretion, if they want a new service revolver or want to get some new boots to work in, or a drone, that's my wish. I can't thank them enough."
It was that effort made on the part of local law enforcement, he said, that gave the Baughn family hope and energized them in their own search efforts.
As the search ramped up, the family said 85 volunteers ultimately showed up to help search dirt roads, deer paths and rural roads in the area around East Mississippi Community College's Golden Triangle campus.
Baughn also said he gained a new perspective after losing his son and suffering through the uncertainty of a search effort to find him.
"I talked to one lady who said her daughter came up missing and said after two weeks they dropped it ," he said. "She didn't drop it and we didn't drop it."
For more on this story, read Sunday's Starkville Daily News or subscribe by clicking here.