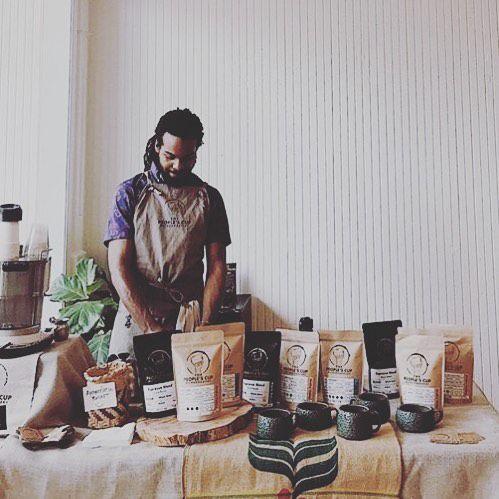 Blair Edwards is brewing fresh coffee in the Cotton District with the hope of making the community's morning a little more refreshing. 
Located at 12-1/2 B Lummus Drive, he began his soft opening at the end of January and will officially celebrate his grand opening Saturday, March 30. 
He uses a secret roasting technique that he said makes the coffee less acidic and adds more flavor. 
Not only that, but he prides himself on getting as close to the coffee farmers as he possibly can, traveling the distance to bring a variety of flavors to Starkville. 
"I'm looking for certain things I guess I'm starting to have to think about as a lineup like my perfect cup varies. I don't like having the same thing every day," Edwards said. "I like having options that cover the whole spectrum."
He said the same love that's put into food is the same love he puts into each cup of his customer's coffee. 
"It's the first thing you do in the morning," Edwards said. "The ritual of it makes it taste better."
He specializes in delivering whatever flavor of coffee his customers desire served in multiple ways: drip, pour over, aeropress, or cold brew. 
There are no lattes or frozen drinks on Edwards' menu. 
"Straight coffee," he said. "Always organic."
If one is wondering where the name The People's Cup came from, Edwards will tell you "the principle." 
"Just kind of trying to put the money from coffee back to the hands of the people and the knowledge of the coffee," he said. "You don't need a $3,000 expresso machine to make coffee. You only need $20 to make good coffee every day."
The area The People's Cup is in resembles the courtyards on Royal Street in the French Quarter of New Orleans. 
"I spent my childhood down there, my family is from there, I used to live there for a little bit and that's kind of what I'm drawing inspiration for for this," he said. 
Patio furniture is now in his courtyard and next speakers for music, and strings of light will hang for people to cut away and relax with a cup of coffee. 
"Every time I've been in one of those, I was like imagine if someone was selling coffee out the window," he said. 
That's exactly what Edwards is hoping to do - selling flavors such as the Columbian and Ethiopian bean coffee. The Columbian coffee tastes more like dry fruits and the Ethiopian tastes a lot like blueberries. 
The Columbian is a customer favorite on his menu. 
"It's one of those things that it doesn't feel like a job like I'm making people coffee. It's like when you cook people dinner and they like it - it feels better than that," Edwards said.  
Originally from Atlanta, Georgia he's always loved drinking coffee but never thought the love would develop enough to open a business.
His first job was at Starbucks in Atlanta, and he continued to work at other coffee shops, which brought him to the realization that it's something he could pursue. 
"Sometimes you just find something that you're just like 'I'm cool with this and I could just go on and on with it' because you actually kind of like it," he said. 
"The more I started working in coffee shops the more I realized that's kind of what I wanted to do," he added. 
As one of the founding individuals of Sunday Funday, Edwards debuted his coffee at the events. 
The main goal of his business is to bring coffee appreciation to Starkville. 
"Sitting down and tasting something, caring about where it came from and the love that got put into it," Edwards said. 
Phase two of The People's Cup is to begin growing his own coffee.
"We're not going to have coffee in 30 years to grow where it grows right now so we try to start growing it in other places and learn how to grow it ourselves," he said. "And that's the backup plan for caffeine."
In addition he wants the public to be able to sit in his courtyard and enjoy coffee served the way they like while listening to music live or through a speaker. 
Performances of spoken word by local artists are also being planned at The People's Cup as well as a Saturday Market. 
"Those kinds of things build communities I feel like. I don't think we have in this place a place like that," Edwards said. "I'm just trying to do whatever I can to help." 
Edwards added that helping has always been his objective. 
The People's Cup is open Monday-Friday from 7 a.m. to 2 p.m. in a hard-to-find location in the Cotton District, but Edwards said he enjoys it because it's like all the best things in the world - "You gotta work for it."