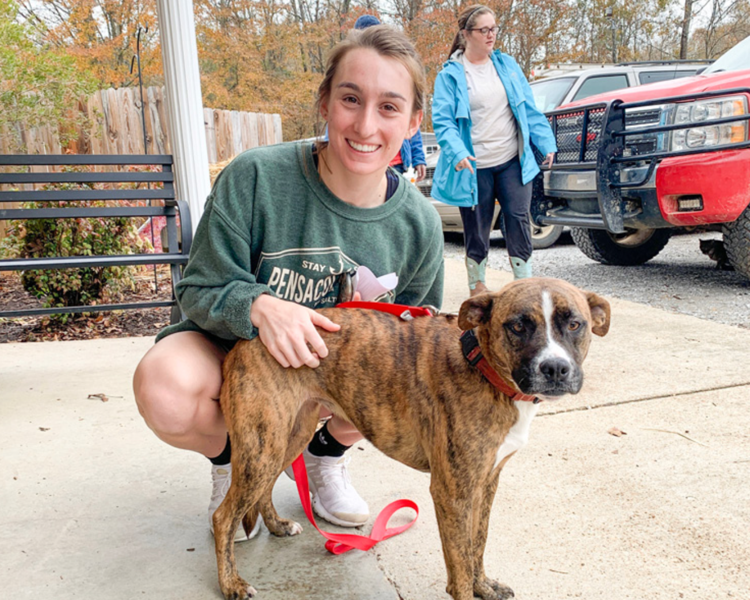 Last Saturday, Oktibbeha County Human Society's Starkville Animal Shelter officially launched its Dogs Day Out program, which provides field trips for shelter dogs.
Erica Claycomb, Dogs Day Out coordinator, said this program is free and gives people the option to shelter a dog for the day without making a full-time commitment to pet ownership.
"We did this because we noticed a lot of people who are interested in the community and are helping us but may not be able to adopt or foster," she said. "It's a free way to take a dog out hiking or even just go get coffee. The options are endless."
Now open every business day, Claycomb said the program's first day was encouraging since people were interested in helping despite bad weather.
"It was a Saturday, announced last minute and rainy, so we didn't think we would have a lot of people come out," Claycomb said. "However, we did have five dogs go out on a field trip."
Beyond fulfilling pet lovers' needs, Claycomb said the program is also beneficial for the dogs and their health since prolonged time in a kennel can damage animals' emotional and physical well-being.
"This helps our shelter dogs get out of the shelter and manage their stress levels," she said. "It also gives everyone a better idea of how the dogs function outside of a shelter."
Noting one dog taken out last Saturday, Claycomb said it was often hyper at the kennel but behaved well in the car and in public as a Dogs Day Out participant. This realization will allow them to promote the dog's personality as a positive feature for adoption.
Claycomb said many studies have proven that dogs who can get out of the shelter have an increased rate of long-term happiness and satisfaction.
"They measured the animal's stress and satisfaction rates when they were at a shelter, while they were away from the shelter and when they came back," she said. "What they realized is that the animal's happiness levels went up while going out but did not drop despite returning."
Having heard concerns that this program provides false hope of adoption for the dogs, Claycomb debunked those claims, stating the program has long-term benefits for the animals.
"A lot of people might think 'Oh, you're giving the dog a false sense of hope by going out for the day,' but studies have been done and dogs don't get sad when they come back," Claycomb said. "They are just really happy to get out for the day."
Having received interest from the community, Claycomb said the shelter tried the program during the summer and were please with the results.
"We would have dogs go out and then post about them on social media," she said. "About the next day, they ended up being adopted."
Due to the program's summer success, Claycomb took a course through Maddie's Fund on fostering and short term field trips and is officially certified to coordinate Dogs Day Out.
"I learned all of the tools to really get it up and running," she said. "Also, because I took that class we are open to receiving grants that can help this program as it continues."
As the holiday season approaches, Claycomb said the program's launch was timely since they also promote temporary fostering initiatives during November and December.
"What we want to do is promote people to take the dogs out, but if you are able to take the dog home, we invite people to take the dog home for Thanksgiving or the weekend," she said.
As Dogs Day Out continues to grow, Claycomb encourages those with suggestions to contact OCHS since this program was conceived as a result of community prompting.
"We are always open to improving," she said. "We are open to hearing ideas from people in the community and to considering opportunities for collaboration."