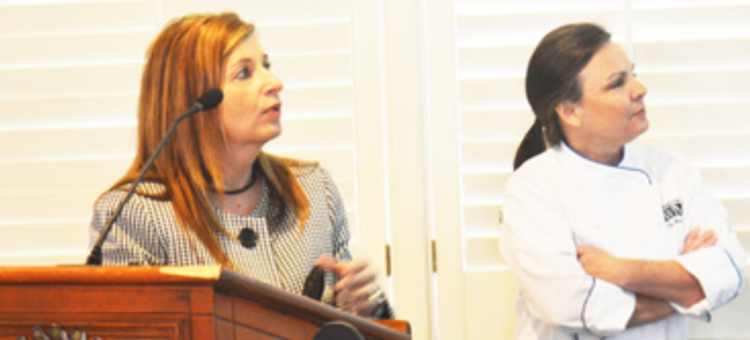 Members of the Starkville Rotary Club had the opportunity to learn about the Mississippi University for Women's culinary program, when its director, chef instructor Alexi Harrison and chef instructor Mary Helen Hawkins spoke at its meeting Monday.
The program was founded in 1996, and currently occupies Shattuck Hall on the MUW campus in Columbus. However, plans are in the works for a new facility. The program offers four concentrations, including culinary management, food art, food journalism and nutrition and wellness.
The program also offers a bachelor's of applied science in culinary management aimed at those who have experience in the food industry, but need a bachelor's degree to advance.
Additionally, Mississippi State University's Culinology program is taught as a joint venture between the Culinary Arts Institute and MSU's program in food science. Minors in culinary arts and nutrition are also offered. The program is part of The W's College of Business and Professional Studies.
"It's one of the few bachelor's programs in the U.S. for culinary arts," Harrison said. "Our kitchens are set up more like individual stations. They're not as much set up like a restaurant kitchen, so it allows the students to do group work as well as individual work when they're in class."
Three full-time chef instructors, two registered dietitians and a part-time online instructor staff the program.
For more on this story, read Tuesday's Starkville Daily News.