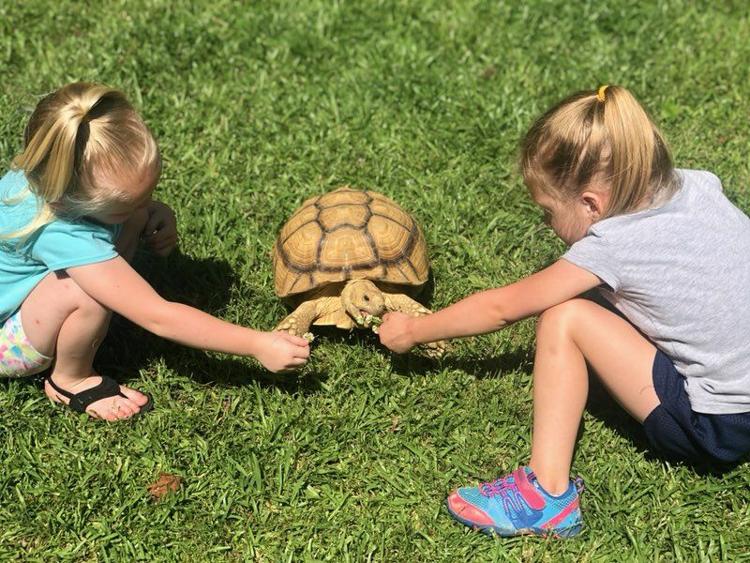 A local family's pet African spurred tortoise named Buttercup has been returned home safely being found approximately six miles from home on Old Highway 12.
Stanley Kay McReynolds has kept Buttercup for about 12 years. Her uncle found the sulcata tortoise in a garden and decided to hold onto her in case someone claimed it. Well in 3-4 months no one claimed Buttercup. Buttercup's species inhabits on the edge of the Sahara desert and she's the third-largest tortoise species in the world. She's practically a baby right now at approximately 15 years old, out of her expected life span of 150 years old. She weighs 15-16 pounds, but can weigh up to 200 pounds someday.
Monday, April 29 was a normal day for McReynolds. She let Buttercup out of the 4x4 mobile kennel she's usually in to graze the yard.
"That way she can kind of stretch and roam and pick grasses she wants to eat instead of just where I move her to," she said.
In 12 years she's been able to let Buttercup out and she never leave the yard, but she wandered a little too far this time. Heartbroken by her disappearance, McReynolds immediately called on help to find the tortoise.
Monday afternoon they had a big search party to look for Buttercup until dark, but gave up because tortoises tend to sleep and aren't quite visible.
"The next day I had a search dog come out and try to sniff her out and he kept the trail for awhile then we lost it. Tortoises don't tend to leave a scent trail quite like other animals do," she said.
Apparently Buttercup went through the woods of McReynolds home in the Longview community and came out on New Light Road. McReynolds confirmed to the Starkville Daily News Sunday night that her beloved tortoise was found and returned to the family by Tim Pruden.
"By a gentleman that just so happened to see her and picked her up, put her in the bed of his truck not knowing anything about her - he had not seen the Facebook posts," she said.
Pruden immediately knew it was a pet when Buttercup followed him around in his yard like a dog. One of Pruden's buddies recognized the tortoise and managed to track McReynolds down.
Buttercup was still in a healthy condition and unharmed. Tortoises are natural grazers so there was plenty of grass and water to sustain her.
"Being a desert tortoise they don't have to have water daily. They need access to it but they don't always drink it," McReynolds said.
The area she roamed to was filled with ponds, puddles and shallow creeks that she had to cross to get to New Light Road.
The family has three dogs, one cat, seven geese, seven ducks and McReynolds has lost count on the chickens. Buttercup loves the sunshine, white clovers and fruits.
"Unfortunately a lot of lost pets don't get returned so we are very blessed to have her back home," McReynolds said.
McReynolds' daughters Emma Jane and Isabel Grace Kornegay love to play with Buttercup, feed her and rub her shell.
"We're very, very grateful for the gentleman who picked her up," she said.
"I'm so thankful for all the people that searched and prayed for me and for her safe return, and shared those posts that were all over Facebook," she added.