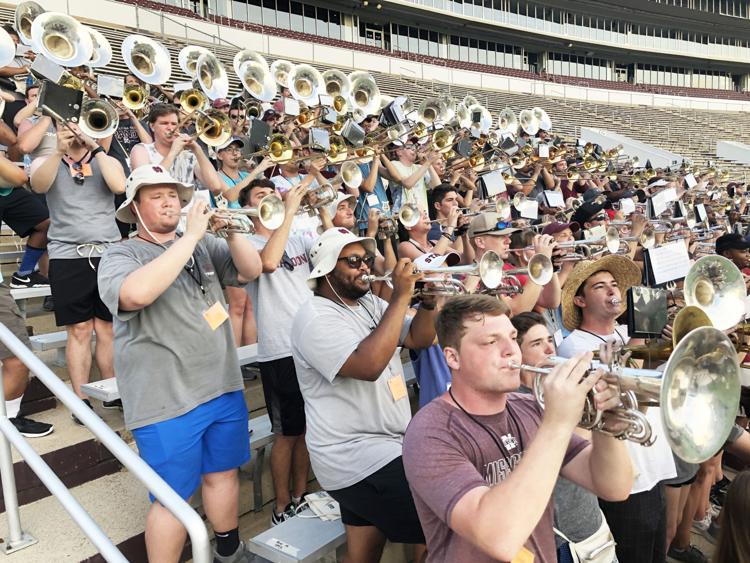 It's loud. It's famous, and it's likely the largest student group at Mississippi State University.
This year, with 420 members from at least 16 states and one foreign country, MSU's Famous Maroon Band is the largest it's ever been. The ensemble has spent this week in its annual band camp, preparing its halftime shows for the upcoming football season. From Tuesday to Friday, the group worked on its marching and formations, as well as its musicality, learning two shows in four days.
Freshman clarinetist Rachel Talmadge, a biology major from Fredericksburg, Virginia said the camp was much more intense than her high school band camps.
"I feel incredibly proud of myself, because we learned two whole shows in a week, and that's insane, because we would only learn one show in three months in High school, so it was a really big change, and I'm really proud of myself that I did it."
Although she was raised in Virginia, Talmadge's parents both graduated from MSU, which influenced her decision to go to MSU and join the band.
"This has always been a home away from home for me," Talmadge said. "I was the little kid at football games in the little cheerleader uniform."
Gwyen Elizabeth Sutphin, a senior piccolo player and business information systems major from Starkville, said the upperclassmen in the band were responsible for helping the freshmen learn their parts and learn how the Famous Maroon Band worked.
"The upperclassmen teach the freshman like 'hey, you're supposed to go to this yard line for this set or for this part of the song,'" Sutphin said. "It just takes a lot of focus, hard work and determination to get through it."
Sutphin also said she had grown up hearing the band at Bulldog football games and had joined after graduating from Starkville Academy. Although she will likely have to stay at MSU for an extra semester to graduate, she said she realized her time in band was drawing to a close.
"I've really grown to love the people I get to march with every single day," Sutphin said. "It's kind of like my family away from my family even though I'm from Starkville. I'm going to miss every single person in band."
While Sutphin and Talmadge will be performing on the field, senior Drum Major Brooke Balla will be one of four drum majors standing above the band and holding the ensemble together.
"The drum major's role is both very apparent and very invisible," said Balla, a senior biomedical engineering major from Huntsville, Alabama. "We help set up the food with the band managers and the graduate assistants, and of course, we actually set drill on the field, and we actually conduct the band."
Another of the band's drum majors, Hunter Harris, further described his responsibilities.
"For a college band, it's much more of a great experience," said Harris, a junior aerospace engineering major from Graniteville, South Carolina. "Since trying out, it's been about the greatest decision I've made in my life."
Prior to being selected as a drum major, Harris played in the band's clarinet section.
"Now I'm up on the podium, because it's a little bit of a different experience, because now I'm not playing, I'm just conducting and making sure that the whole band, making sure everyone stays a whole cohesive unit, making sure everyone stays on time."
MSU Director of Bands Elva Kaye Lance has directed the band since 2002 but has served on its staff for 28 years. She said this year's band camp was a success despite the dangerous heat seen earlier in the week.
"We met all of our goals that we had for the week as far as where we wanted to be as far as learning the music and the drills," Lance said. "We're pleased with their work. It was hot, but they handled the heat well, and we didn't have any heat problems."
She said the band took frequent breaks during outdoor rehearsals and drank water throughout rehearsals.
"We're outside in the morning, and we're outside in the evening," Lance said. "We're inside the band hall at night, and they have sectionals under the shade trees."
She said the camp existed to form a cohesive unit, and make sure new members of the band understood the band's language and style.
"Every program has a language, so we try to expose them to that, and then we want to get the drill and the music for our pregame show, and we want to have the drill and the music for our first halftime show underway, and we read our cheers," Lance said. "We went to the stadium last night, and we read our cheers and we made our seats in the stand and they learned their horn flashes for the cheers."
Lance also lauded her staff, including associate directors Craig Aarhus and Cliff Taylor for their work.
"We've been together a long time," Lance said.
Despite the importance of performing well, Lance emphasized that there were other aspects to band camp.
"Part of band camp is social, and we want to introduce our new students to our band program, and we want our leaders to learn their names, and help them develop a sense of community," Lance said.
The band's shows this year include "Music Royalty," which will encompass selections from Queen, Elvis Presley and Michael Jackson. The band will also perform pregame shows, as well as its annual patriotic and homecoming shows.
"We love being a part of the game day atmosphere, and we like to think of ourselves as the soundtrack," Lance said.