The Starkville Rotary Club honored the first and incoming class of the Oktibbeha Young Leaders program Monday afternoon with a ceremony at The Mill.
OYL is a signature club of Rotary with a goal of identifying future leaders of Starkville and Oktibbeha County. The OYL inaugural class of 20 students were selected in April 2018 and began their journey as future business and community leaders of Starkville in August.
The program was started as a joint effort between Starkville Rotary Club and the Greater Starkville Development Partnership.
Throughout the nine-month leadership program, selected high school sophomores participate in various community service projects and adhere to a curriculum designed to provide personal, cultural, social and leadership development.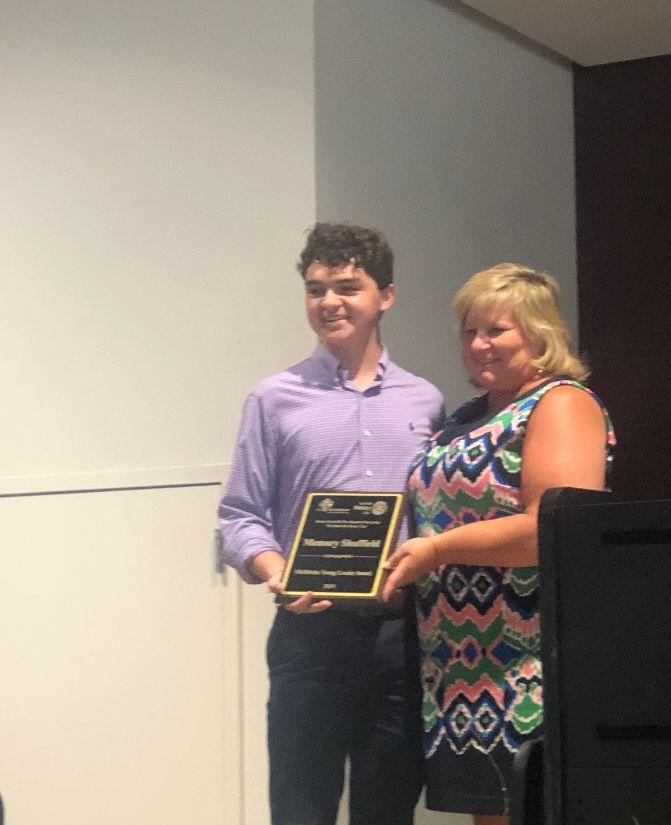 Memory Shuffield of Starkville Academy was awarded the Oktibbeha Young Leader award. Shuffield said to sum it all up it's an honor to be one of the OYL pioneers. He believes the program is a great way to get involved in the community.
Shuffield plans to look into international business outside of high school.
"Hopefully completing it in four years if possible, and then maybe take over my dad's landscaping company," he said.
Planned trips such as Plymouth Bluff, gaining knowledge from local government and industries, and community service at the Oktibbeha County Humane Society and the mural project on Lampkin Street prepared the students to become ethical and creative members of society.
"Oktibbeha Young Leaders has been one of the best experiences I've had the privilege of being apart of," Greater Starkville Development Partnership Program Coordinator Jake Goodwin said.
Co-Chair of Rotary OYL Committee Michelle Amos said Starkville Rotary was inspired by a similar program developed by the Columbus Rotary Club's partnership with the Lowndes County Chamber of Commerce.
"We'd been watching that and just really wanted to do it. So we figured out that Rotary Club couldn't do it by itself and The Partnership couldn't do it but hand-and-hand we could make it happen," Amos said.
In all, 21 students were recruited to be apart of the OYL class of 2020. Acceptance into the program is based on academic and leadership accomplishments, and community involvement. Each participant submits an essay identifying a community problem and suggests a solution.