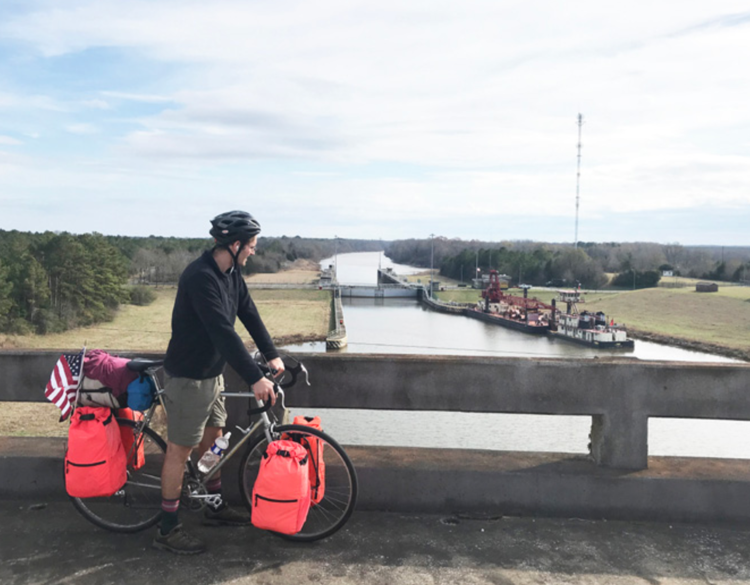 As vehicles drove along Highway 182 at 45 mph, cross-country bikers Ryan Wagner and Morgan McCune peddled toward Starkville, one of the many stops on their journey home to San Diego, California.
Interested in visiting family and challenging themselves, the couple of four years put their belongings in storage and came from San Diego to St. Simons, Georgia to start their cross country bike trip.
"We are at a break between jobs and planning to move, so we decided to use that time to visit our family and wanted to do it in an interesting way," McCune said. "We also wanted to expand our knowledge of the world."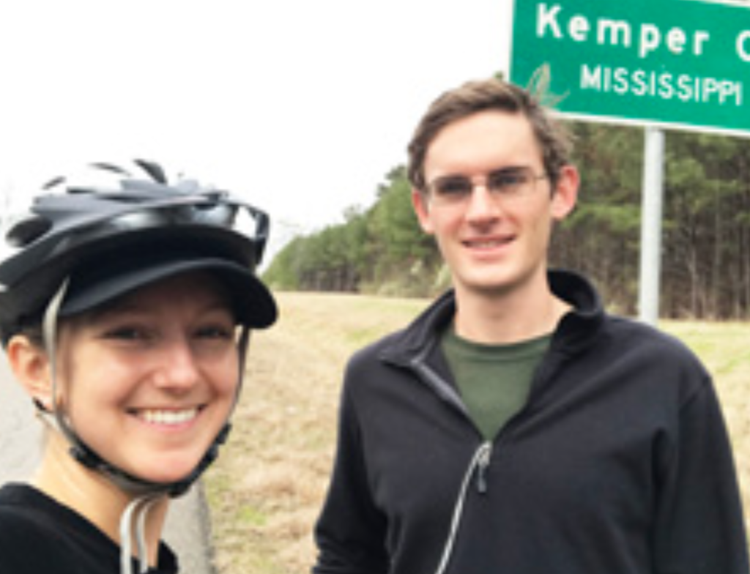 With images of the American frontier in mind, McCune said they always imagined how it would be to travel without cars and to see the world one mile at a time.
"Ryan had been talking about what it would be like to ride a horse across the U.S. and bikes would be kind of the same speed," she said. "We wanted to do something slow and travel."
Only 13 days into their journey, the pair have traveled over 700-miles and plan to bike another 2,300-miles over the next few months.
Having worked as a bicycle taxi driver in San Diego, Wagner said he was physically prepared for their trip, but McCune said she is taking time to adjust.
"We went really hard at first because we felt fresh," she said. "If you have your bike fit properly, you shouldn't get hurt, but we went too fast so my knees are feeling it."
Despite knee stress, McCune said the only issue they have encountered so far was heavy rain.
"It was an unexpected difficulty, but it was fun though," she said. "Other than that, everything has gone smoothly and been a wonderful experience."
While the rain was problematic, the colder weather has not caused issues, and instead, made the journey easier.
"It is usually harder to get out of bed in the morning, but with the cold, we don't have to worry about bugs and snakes like we would if traveling in the summer," McCune said. "I am enjoying the cold. It's invigorating."
Alongside carrying their body weight, the pair also have bags attached to their bikes to carry their clothes, food, bike maintenance tools and camping equipment.
"We are very health conscious so we were very concerned about having a good diet while we did this," McCune said. "We eat a lot of oats, seeds, dried fruit and weigh protein because they pack light and are high in calories."
As the night falls, the pair rely on the kindness of strangers to let them pitch their tent in their yards for the evening.
"Everyone we've met so far has been so friendly, and we've had no trouble at all finding a place to pitch our tent," Wagner said.
When biking into Starkville, the couple met Libby and Jerry Gill who saw them and stopped to make sure they were safe biking alongside the highway.
"In their younger days they would do the same thing, so they offered to let us camp in their backyard," Wagner said. "Then, they offered us their guest room which never happens."
Wagner said the Gills also showed them their horses and spent the following afternoon letting them ride their horse, Fancy.
"We are so grateful to Jerry and Libby Gill and all of Starkville for being so hospitable and welcoming," she said. "We have really enjoyed our time here."
Now, the pair are visiting friends who live in Starkville before leaving Sunday to continue their trek to New Orleans.
"With this, you go to places and see towns you might normally drive through," Wagner said. "We have found some small towns we would have never come across otherwise. We got to see Christmas on the river in Demopolis, Alabama which was fun and unexpected."
While biking in Starkville, McCune said they are impressed by the biking infrastructure the city offers.
"This is the first city we have been to so far with bike lanes," she said. "It has been so special to have our own lanes where we can feel safe while biking."
Wagner said he hopes other cities will follow Starkville's biking initiatives so those wanting to bike will feel safe doing so.
"I wish other places were more bike-friendly and would encourage it," he said. "We are almost the only ones we see biking. Probably half the people we have seen on bikes this whole trip has been in Starkville."
As they prepare to continue their journey, McCune said they recommend biking as a means to travel for all people.
"It is great exercise, really clears your mind, is low stress and all you really have to do is get a bicycle, stop, camp and do it again," he said. "This is really fun and lets you meet a lot of amazing people who you would not have met otherwise."
To follow McCune and Wagner on their cross country adventure, visit their blog thebiketour.travel.blog.