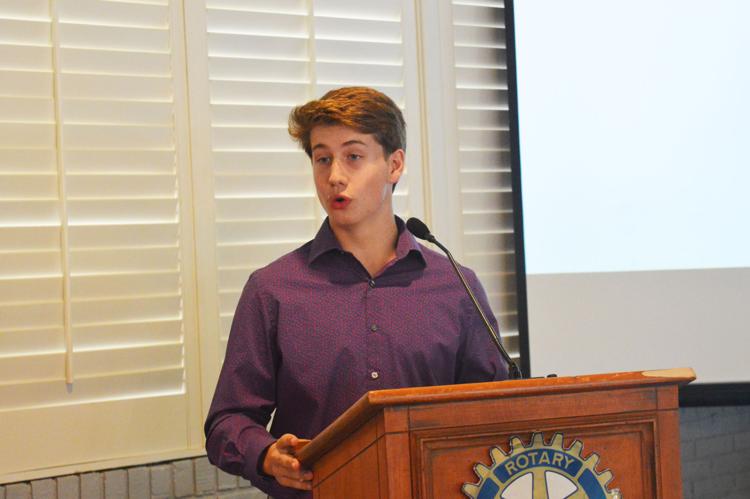 The Starkville Rotary Club heard from one of the community's local celebrities Monday morning, when teen chef Mark Coblentz discussed his experiences as a teen chef and contestant on "Chopped Junior" and "MasterChef Junior."
The 16-year-old culinarian is a junior at Starkville High School, where he is also on the football team.
In addition to competing on "Chopped Junior" and "MasterChef Junior" in 2015 and 2017, respectively, Coblentz has begun hosting his own cooking show titled "Making a Chef" on Mississippi Public Broadcasting. He has also appeared on the syndicated children's program "Wonderama" hosted by David Osmond, nephew of singers Donny and Marie Osmond and filmed in front of a live audience.
"That was a really, really fun experience," Coblentz said. "It's filmed up in New York City, so for the past three summers my dad and I have flown up to New York City for two or three days and filmed."
He also discussed his "Making a Chef" show, which is filmed by his father Robbie Coblentz's production firm Broadcast Media and airs periodically on MPB.
"It's all done here in Starkville, Mississippi," Coblentz said.
In addition to Coblentz's cooking, the series has featured places including the Starkville Café and local merchants like People's Cup Microroastery Owner Blair Edwards.
He also recalled a story from the set of "MasterChef Junior."
Michelin-Starred chef Gordon Ramsay, one of the show's judges, threw one of Coblentz's steaks at a fire engine during his first team challenge.
"My teammates grabbed the undercooked steaks instead of the cooked steaks, so we had about six or 12 of them get out there," Coblentz said. "I got fussed at again by Gordon Ramsay and he threw my steak at a fire truck. I thought it was a bird. I asked my friend (fellow contestant Mashu Nishi) 'is that a bird,' and he was like no, he threw your steak. "
Coblentz made the show's top 10, but was eliminated during the Beef Wellington challenge.
"It's a very hard dish to make," Coblentz said. "It took me a couple of tries to get it right at home."
Coblentz said he became interested in cooking after watching his mother and grandmothers in the kitchen as a child.
"I would just watch them cook," Coblentz said. "I'd watch television. I'd see them cook, and I'd want to go try it myself."
He said his favorite food celebrity was Alton Brown, and that barbecue and homemade donuts are among his favorite dishes to cook.
After graduating SHS, Coblentz plans to continue his culinary career path.