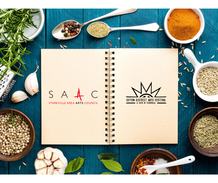 Development for the Starkville Area Arts Council (SAAC) 25th Anniversary Arts & Culture Cookbook is underway. SAAC is looking for submissions of title and cover art for the cookbook.
The theme is simple: what represents Starkville's arts and culture?
All submissions must be made via SAAC's online portal. To access, visit www.starkvillearts.net and click on the "Submissions" button for all of our active applications. The submission deadline is January 30, 2021. Submissions do not have to be a finished product and can be photographs, art, murals, architecture, etc. as long as it represents Starkville or Oktibbeha County.
SAAC is still accepting submissions for stories, history, and recipes. Share on SAAC's website, www.starkvillearts.net/25thanniversary. The submission deadline  for stories, recipes, and photos is January 15, 2021.
Funds from the sale of this book will support art and art education outreach in Oktibbeha County, including grants to other arts organizations and projects here in Starkville. Help memorialize and celebrate our artistic heritage! Volunteers are needed, and the community at large is invited to participate through submissions and recipe testing. Contact SAAC for further details at arts@starkvillearts.org.